Home
David Storey
Chichester Festival Theatre
Minerva Theatre, Chichester
–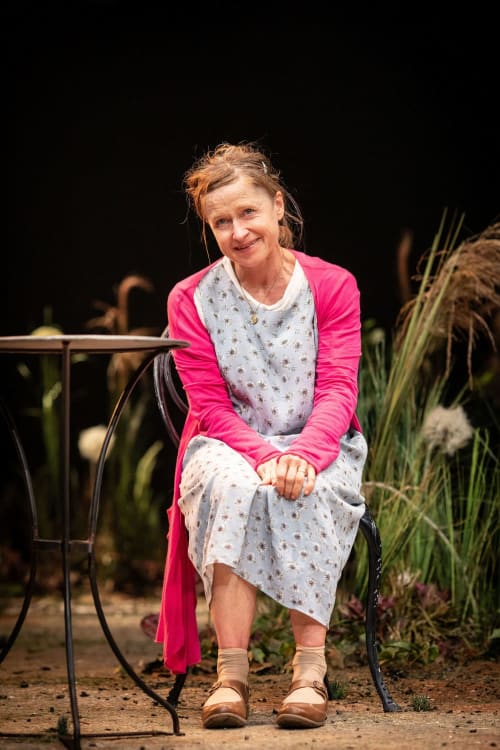 The first sight of Sophie Thomas's set brought gasps of admiration as the Minerva stage had been transformed into a large garden, some areas seemingly overgrown, some in need of a little TLC perhaps, but the paths are fairly clearly defined.
Perhaps it is a rather neglected park. A small metal table and two matching chairs are placed strategically almost centre and Harry sits on one. He stretches luxuriously, examines his shoes, leans back relaxed with his face to the sun—a man perhaps recently retired and now with time on his hands and at peace with the world.
Marching jauntily into view comes Jack, smartly dressed and swinging his cane. He joins Harry and the two men chat idly—smalltalk about friends, family, just anything which comes to mind. Jack seems to have an inexhaustible supply of relatives and acquaintances who, one way or another, mirror Harry's musings and a lot of the conversation is quite funny (in fact totally hilarious to some young people in the audience). Just two old men with time on their hands passing the time of day, and it is some time before it dawns on us that something here is not quite right, not as we thought.
When Hayley Carmichael's Kathleen arrives, complaining about the shoes they have given her when they took her lace-ups away, our suspicions are confirmed. Their 'Home' is a mental institution, yet at this point they all seem quite happy, especially the sex-obsessed Kathleen who finds it hard to keep her skirt down and, given the chance, goes off with any man. "Watch out, she'll have you in the bushes" warns her friend Majorie. It's a good combination of the two contrasting characters (and beautifully performed) with bubbly, giggly Kathleen balanced by the no-nonsense, loud, controlling voice of Doña Croll's Marjorie who never will never admit why she is there.
On the surface, nothing has happened. There is no particular moment or reason for the mood to change, yet suddenly the sadness and longing, hidden behind Harry's quiet, contemplative demeanour, emerges as he finds life too hard to bear, while Jack has his own method of dealing with the pain, obsessively walking, walking, purposely yet randomly just anywhere. Superb performances from Daniel Cerqueira and John Mackay.
The fifth member of the cast is Leon Annor excellently presenting Alfred who seems to have been a weightlifter as his obsession is pouncing on a chair or table and seeing how long he can keep it above his head before he walks off with it. When he meets the other characters, he seems aggressive, "do you want to fight?" being a frequent question, but said quite gently as if more in conversation, before immediately backing off when challenged.
The author himself has suffered from depression in the past, his play was written in the 1970s, and today with so much emphasis and compassion for the problems of mental health it seems more relevant than ever. The babble of conversation as we left proved that Josh Roche's production had given us a lot of thought and much to discuss.
Reviewer: Sheila Connor