Home
David Storey
Oxford Stage Company
Theatre Royal, York, and Touring
(2004)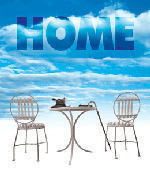 David Storey's play The Contractor ends with a white metalwork table left behind on an otherwise empty stage. It occurred to him that here was "a basis for the beginning of another play by adding two metalwork chairs (and two characters to occupy those chairs)." The characters in question turned out to be Harry and Jack.
These two charming, nattily dressed gents meet in what at first seems to be a municipal park. They reminisce about the war (Jack feels that had it continued for another thirty years the nation's moral fibre would have been much improved), discuss the weather and exchange views on work - Jack is in the wholesale business, Harry had to abandon his youthful dream of becoming a dancer and is now a heating engineer. Both are decidedly eccentric and Jack has an inexhaustible fund of stories about his accident-prone family and friends, who tend to fall off cliffs or break their necks tumbling down stairs the day before they were due to move to a bungalow.
If you've ever sat next to an empty seat in a park or public library, the chances are that you'll have attracted the company of someone like Harry or Jack - strange but harmless. But with the arrival of the raucous Kathleen (Geraldine James) and Marjorie (Sandra Voe) the plot thickens; we realise that the park is in fact the grounds of a psychiatric hospital, the "home" of the title. Kathleen's feet may be tortured by her hospital-issue shoes (her comfy lace-ups were confiscated as a suicide risk) but there's nothing wrong with her libido, much to the disgust of the prim and proper Marjorie. According to her Kathleen was already well known to the boys in blue called out when she wrecked her flat - "They had to send out the police in threesomes, they couldn't trust two and one was never enough". How much of this is true? Was Jack really admitted because of his unhealthy interest in little girls? Did Harry's wife dump him merely because she couldn't cope with his depression? We never really find out, but of course that isn't the point. Home is the story of two odd couples from opposite ends of the social spectrum, incapable - for whatever reason - of coping with what life has thrown at them.
The play is well served by Sean Holmes' new production for the Oxford Stage Company. David Calder and Christopher Godwin are worthy successors to the original dream team of Ralph Richardson and John Gielgud, Sandra Voe's Marjorie is battered but unbowed by years of mental illness, and Geraldine James' Kathleen is a squirming bundle of energy whose skirt tends to ride up at inopportune moments. David Hinton also shines as the endearing Alfred, a lobotomy victim who half-heartedly challenges other residents to a fight and then tries to cadge sixpence off them. Home comes hard on the heels of OSC's revivals of The Quare Fellow and Candida - hats off to them for blowing the dust off another neglected gem.
York Theatre Royal until 30th October, then touring to Warwick, Bury St Edmunds, Cambridge and Liverpool
Reviewer: J. D. Atkinson