Home Sweet Home
Emma Adams
Freedom Studios and Entelechy Arts
The Ukrainian Centre, Bradford
–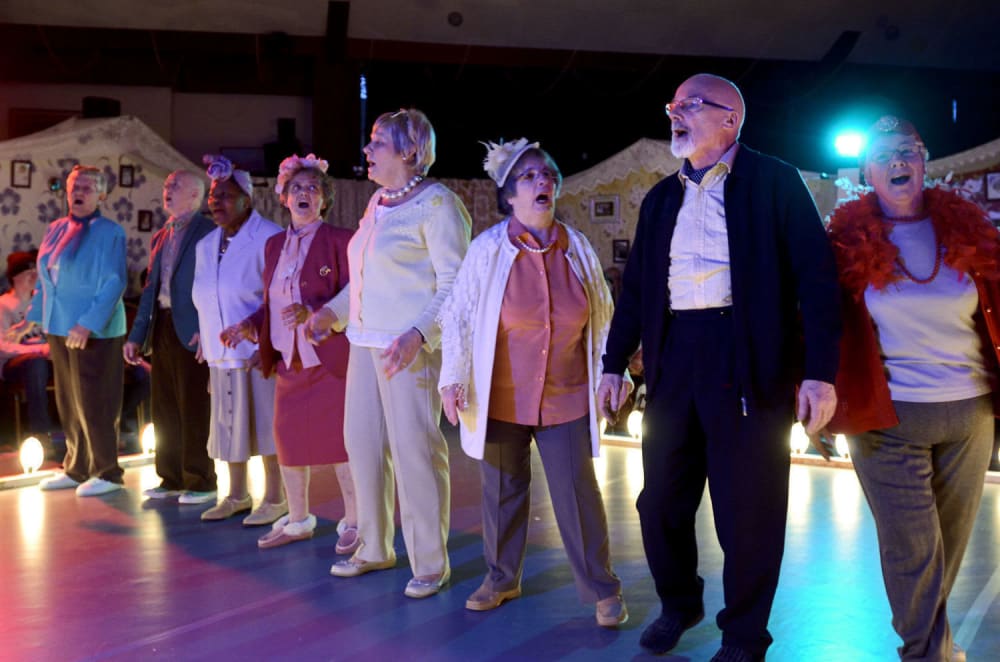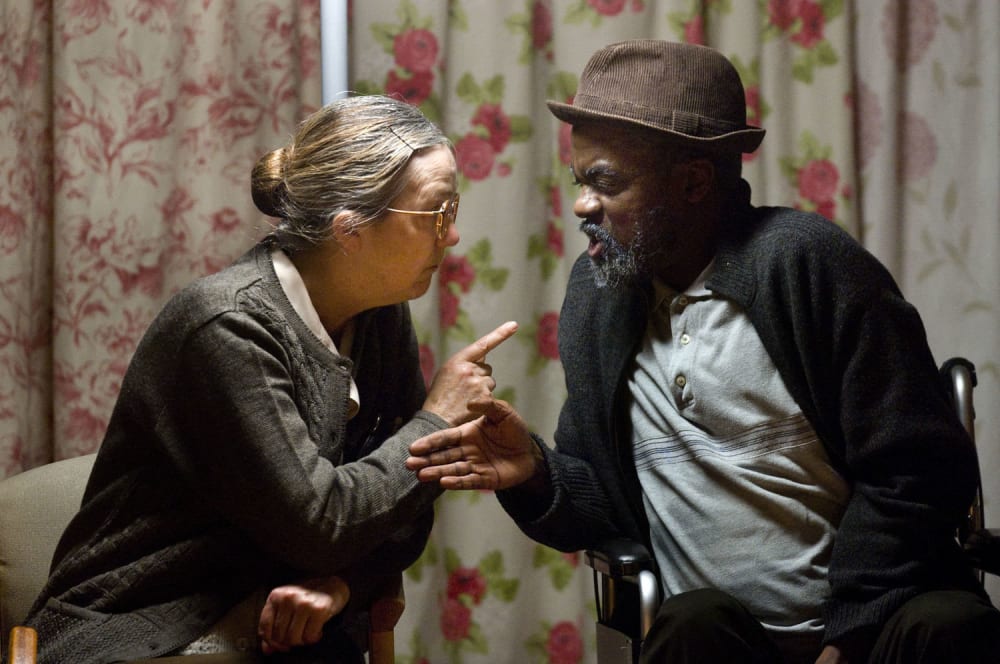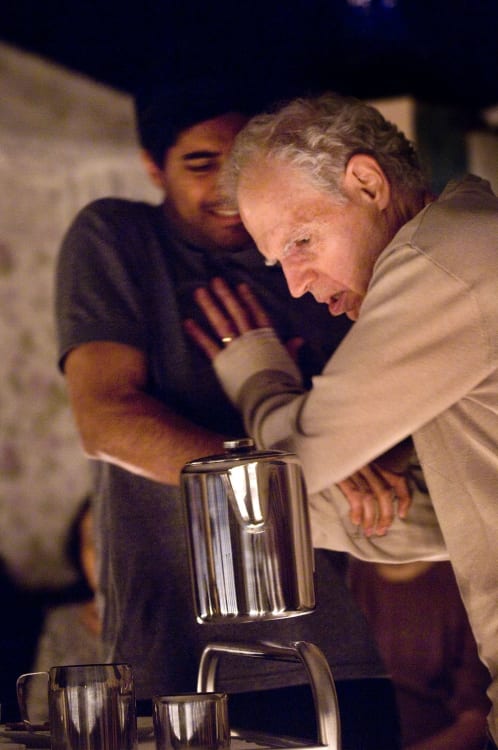 From the sexual exploits of nonagenarians to the stresses of a care home boss, Home Sweet Home sets out to tell real stories, collected from within the communities in which it's performed.
Part of its strength comes from including among its performers a community cast of enthusiastic older people, some of them gracing a stage for the first time. It's certainly a rare sight on today's British stage—a sizeable cast in which the average age must be in the mid-60s. But if Youth Theatre is an important enterprise, why not Age Theatre too?
The venue is an intimate in-the-round configuration within the non-theatre space of the Ukrainian Centre in Bradford, craftily transformed by designer Hannah Sibai. Her floral wallpapers and shell-like footlights create a homely surrounding. The setting also makes it impossible not to cast your eye around at your fellow audience members. When I saw the show, these were drawn from a wide range of ages and communities, and some were clearly rapt to see usually under-represented demographics performing in front of them.
The opening is strong, with the community cast welcoming us to our seats and sharing with us their pictures, as well as tea and biscuits. This interactive element is well-conceived, and continues with these cast members passing round photo albums and wafting snatches of scents—Dettol, boiled cabbage—at relevant moments of the narrative.
Writer Emma Adams has spent two years collating and working on material for the show, weaving it into a set of narratives based in a fictionalised care home. The opening sequence clearly articulates one of her concerns: that art about age comes with a burden of expectations. It will be 'feel-good', though there might be difficult discussion of unpleasant topics. Old people will behave in a certain predictably unpredictable way. It will be humorous, moving, and uplifting. Write that.
Well, Adams has given it a good go. After the chorus-style community cast members have formally welcomed us with snippets of stories which may or may not be their own, the professional cast are gradually introduced into the central care home setting (director Tom Wright devising some particularly ingenious entrances, especially for Bhawna Bhawsar's Daadi).
There's a strong-willed Ukrainian woman, Rosa (the sparkling Judy Norman), who insists she's not staying at the home, and Moses (Kevin Golding), who arrived from the West Indies as a young man and has been at the care home long enough to form attachments to at least a few of the ladies there.
Jo (Phillipa Peak) is the harried head of the institution, and Iffty (Mani Dosanjh) a British Asian care worker lower down the pecking order. Ron (Stephen Schreiber) is suffering from Alzheimer's, and has been separated from other residents as a result of an incident which the staff seems reluctant to explain to his wife, Barbra (Jean Rogers).
While this develops into some well-characterised individuals and strong dialogue, there is an overly predictable neatness to the plot strands and to individual scenes which undermines some of the more interesting points being made here. So Iffty, who introduces himself to us by saying, "I've never met a carer who doesn't care", ends up in confrontation with overworked and efficient Jo; the chalk and cheese odd couple of Rosa and Moses are thrown together by circumstance and end up growing to respect each other; Ron accesses his fading memories with the help of some simple humanity.
The scenes between Iffty and his grandmother Daadi introduce the theme of how older relatives can exert a powerful and positive influence, even once they've passed away. But Adams doesn't quite manage to work these touches into a coherent narrative in much more than a schematic way.
Wright's direction does all it can to marshal these disparate performers and basic material into a more adventurous event, with theatrical interventions signposted by drumrolls and cheers and boos from the community players. There are magic tricks, song and dance numbers, and some inventive (albeit heavy) symbolism from the set.
The direction helps evince strong performances from all of the cast, and Norman, Golding and Dosanjh are particularly endearing performers.
Ultimately though, and despite its aims, the script doesn't manage to raise the bigger questions. It also blurs the provenance of its stories, confining them to an overly strait-jacketed narrative which, to me, detracts from the personal nature of the material.
But as a celebration of older performers and a voice for an under-represented and overlooked demographic, there is no denying that this is a valuable project.
Reviewer: Mark Smith