Home: East Lothian
Created and directed by Gill Roberston
A journey beginning at the Brunton Theatre, Musselburgh
(2006)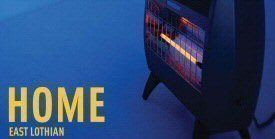 Because one of the most outstanding aspects of this production is, in fact, the cunning secrecy of it all, I would not want to give too much of the elements away in case anyone is lucky enough to have an opportunity to see this again in the same circumstances.
A wonderful piece of work and a terrific showcase for our talented artists, Home:East Lothian has so many amazing ingredients cleverly integrated. Together they have produced the stunning end-product that makes it difficult to prise them away from each other. This is a wonderfully grotesque adaptation of a well-known fable, which really transforms a non-performance space into the stuff of childrens' imaginations.
Music plays a very important part in the production - with captivating original music composed and performed by Steve Kettley, with Robin Mason also playing a terrific arrangement of Shang-A-Lang on the cello. The music and sound design is a constant reassurance to the audience that they are in the right place or watching the right space - both musicians and sound do extremely well to make themselves completely blend into the performance and add to the magic.
The composition of the different scenes is such that we always follow the characters director Gill Robertson wants us to. Cath Whitefield is amazingly accurate as the long-suffering Stepmother and almost brings genuine sympathy out of the audience when she shows us the nasty drawings the children have been making of her. She is equally convincing as the sinister Witch in a way that is reminiscent of the cannibalistic character Sawney Bean at Edinburgh Dungeon. Children in the audience are terrified of her mannerisms and her little outbursts and they wince when she approaches.
The other characters are very neatly cast with years of experience transformed into childish innocence and imagination. This is just another part of the flawless construction of this truly magical piece.
Designing for a site specific piece already places a lot of demands on the designer, but add to this dealing with three or four completely different structures in the same production - all with different architectural layouts, and you have what Karen Tennent has achieved - and it is truly miraculous. Each space is unique and while one is ordinary and familiar, another is haunting and magical. There is a real sense of the macabre about the design - oddly enough like the "Nightmare Before Christmas" animation (Tim Burton) which I am very fond of. The costumes also fit well into this idea and also help to establish the period of the piece.
Home: East Lothian has set a very high standard for the further work of the NtoS and it is hard to see where it could go wrong with consistently wonderful companies like Catherine Wheels working alongside.
Reviewer: Lauren McKie