The Home Place
Brian Friel
Belfast Lyric Theatre production
Grand Opera House, Belfast
(2009)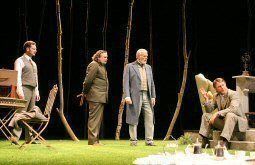 Brian Friel's play The Home Place, first performed at Dublin's Gate Theatre and later in London and the Guthrie Theatre Minneapolis, will never have the appeal of his Translations, a work which it follows in the playwright's interpreted history of Ballybeg, Donegal. Neither will it gain the populist applause of Dancing at Lughnasa.
Indeed, though American critics either fell for it as an essay in romantic pro-Irish, anti-Britishness, or read it as a metaphor for the repercussions against their government's activities in the Middle East - and London observers saw in it Friel's affectionate nostalgia - The Home Place may be read quite differently in Ireland, south and north.
Where Dublin's Gate Theatre production by Adrian Noble, dominated by Tom Courtney's reading of the Ango-Irish landowner Christopher Gore, was read as a work of reflective regret for the inevitabilities of times past, Mick Gordon's direction for this Belfast Lyric Theatre production playing the Grand Opera House, turns in a quite different pack of liberal incomprehension.
True, Ian McElhinney delivers Christopher as an arguably historically correct fool whose gentlemanly bumbling is little but an unsubtle mask for a man who would much rather be in The Home Place in Kent than in the wilds of Donegal. True Aislín McGuckin's Margaret, daughter of the drunken schoolmaster, played with his customary ferocity by Lalor Roddy, balances to perfection the steel of her upwardly mobile 'Big House' chatelaine against the pull of her Ireland washed in the schoolroom melodies of Tom Moore. True Lisa Lambe's perky and flirtatious housemaid Sally makes more of this convention than many others might.
But it is when Gordon and his crew have to deal with what some may take as the fiction that it is not - the brutally detailed 1878 assassination of the real life 3rd Earl of Leitrim, one of the country's most unpleasant landlords - that Friel's written masks begin to slip away from the director's grip.
Attempting to balance Gore's justifiably horrific fears with his gentleman's panache, Gordon has McElhinney dodge the depths as Stuart Graham's customary cocksure enforcer explains the new rules of a Fenian diplomacy.
But the crux of the production's failure lies - not in Kyle Reilly's unbelievably stupid David, a rival with his father for Margaret's affections - but with Conleth Hill's music hall turn as the fascist eugenicist Dr Richard Gore. More an escapee from Little Britain than Friel's customary Chekovian fool, this performance traduces the author's subtle threnody for facile bile.
Barnstorming unchecked, Hill, wrapped it seems in an Edwardian 'fat-suit', carries with him more colonial insensitivites than a blazer-full of moustashioed Home Counties golfers, thus throwing off-centre a play which might well be more sympathetic than it will feel to the many who left the auditorium in a silence far from expected at the celebration of one of this island's most Chekovian of talents.
For goodness sakes, even Ferdia Murphy's setting, which surrounds the Big House with a forest of saplings much too young to have been the text's grandfather's planting, is soon to suffer the fate of every theatrical cherry orchard.
Touring to An Grianán Theatre, Letterkenny; Town Hall Theatre, Galway; Cork Opera House; Market Place Theatre, Armagh and Strule Arts Centre, Omagh.
Reviewer: Ian Hill