Homing Birds
Rukhsana Ahmad
Kali Theatre
Tara Theatre
–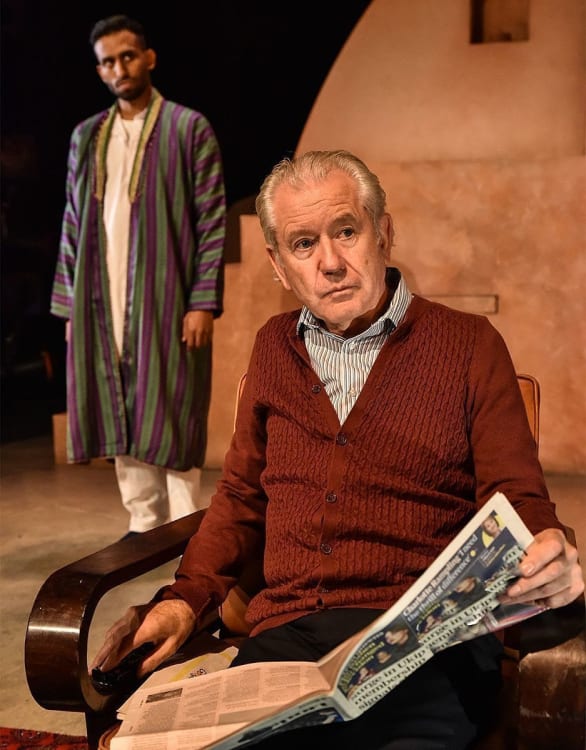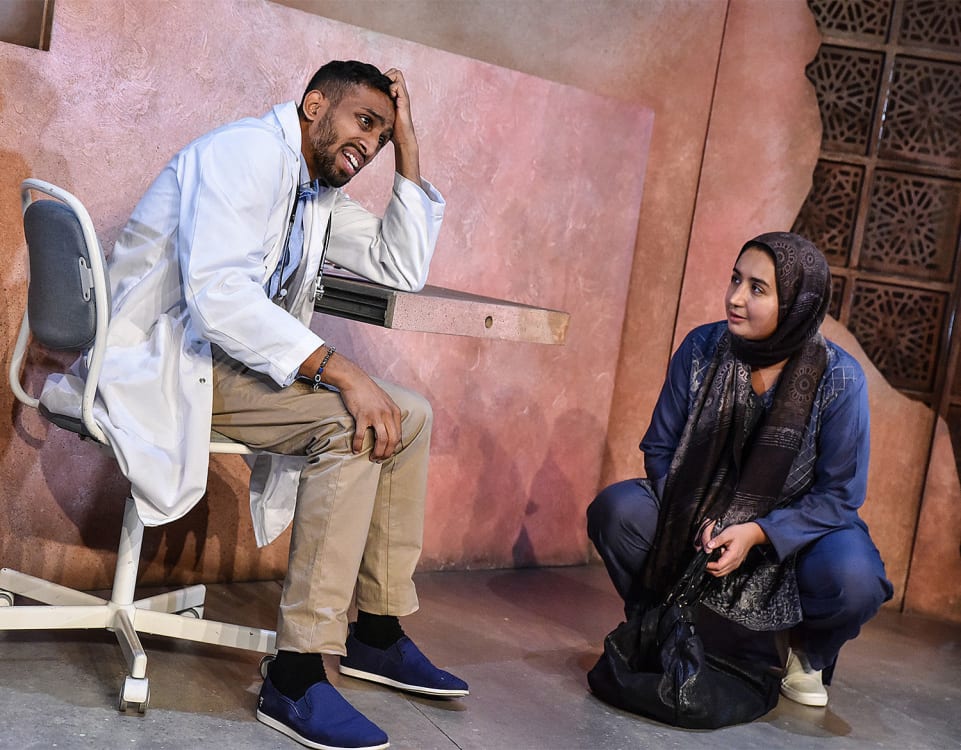 Saeed was only a boy when he arrived in the UK as a refugee from the war in Afghanistan and became part of an English family. His mother, at some cost (just what we'll discover), sent him abroad to save him.
Now adult, a fully trained doctor, he has plans to go back. It's something his adoptive mother encouraged and, now that she has died, he will set off. A meeting in London with Raabia, a female Afghan politician, gives him what may prove a useful contact.
Saeed has never forgotten his is Afghan origins. His memories are full of his father and their pigeons, his birth mother and his sister and the brother who was killed aged seven. As Saeed and Michael, the adoptive father he is close to, clear up after guests have left following Michael's wife's funeral, Saeed expresses regret that she was cremated. With burial, he would have somewhere to connect with her like an Afghan.
In Kabul, where Saeed works with Medicines Sans Frontier, he makes friends with a support worker who seems very empathetic with some of his patients. A woman who was forced into marriage as a child, she is strongly against child marriages and wants someone to take action.
Saeed's old neighbourhood has disappeared so he calls on Raabia for her help and, finding she believes child marriage one of the things that blight Afghan society, introduces her to his work colleague.
Throughout the play, there are flashbacks when Jay Varsani's Saeed leaps back (often in fact as well as in time) to his Kabul childhood, shedding years as his voice becomes piping, an excited boy replacing the responsible doctor.
Mona Khalili plays sister Nazneen in these scenes from their youth and also appears as the hospital support worker. She too had a younger brother who was sent abroad. Her education was halted and made to marry to finance his escape overseas.
John O'Mahony makes Michael gentle and kindly; we don't learn about his life but you can see where Saeed got his dedication from while being encouraged not to forget his origin.
Politician Raabia has not found it easy to achieve her position. Suzanne Ahmet makes her a much harder personality that the others—she has had to be. At first, Raabia is not very likeable: she seems too proud and an opportunist. But she is a politician and she thinks like one. She knows she is up against entrenched attitudes and that challenging them could be dangerous.
Rukhsana Ahmad has written a play that over only 90 minutes deals with the politics of violence, displacement, what makes refugees, why they leave their homeland, the effort to keep one's culture, the wish to return and perhaps to change things—and what happens when the pigeon returns to its roost only to find it is not there.
Helen Coyston's setting of orange walls and fretted doorways evokes a memory of traditional Afghanistan and, whether the action is in London or Kabul, the actors pull things into the real world.
The search for a lost one is a very old theme and what plot there is here is a very contrived one. It states issues and ticks boxes rather than dramatising them, though the actors' performances help to hide this and the writing has passages of real sensitivity.
Reviewer: Howard Loxton