Homos, or Everyone in America
Jordan Seavey
Rowan Rutter and Alex Turner
Finborough Theatre
–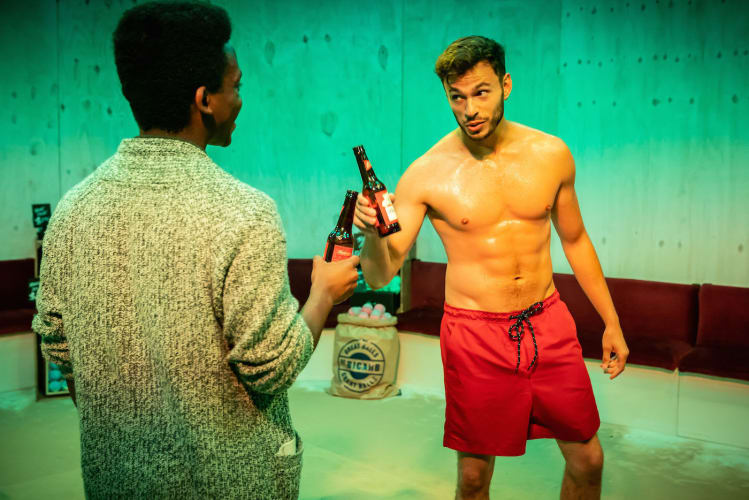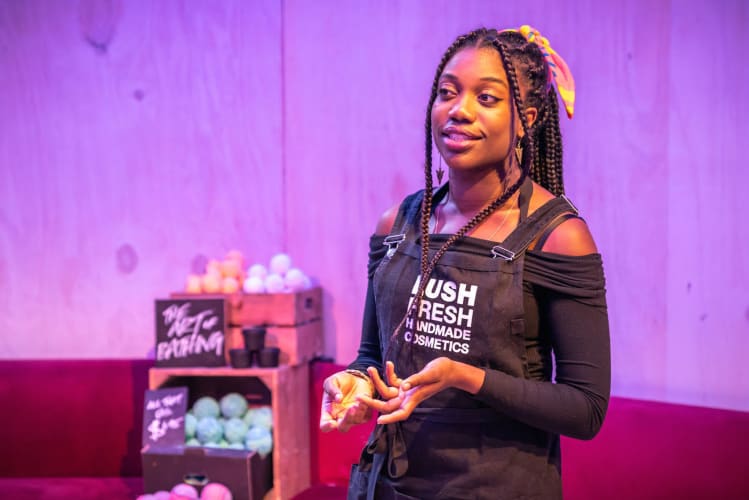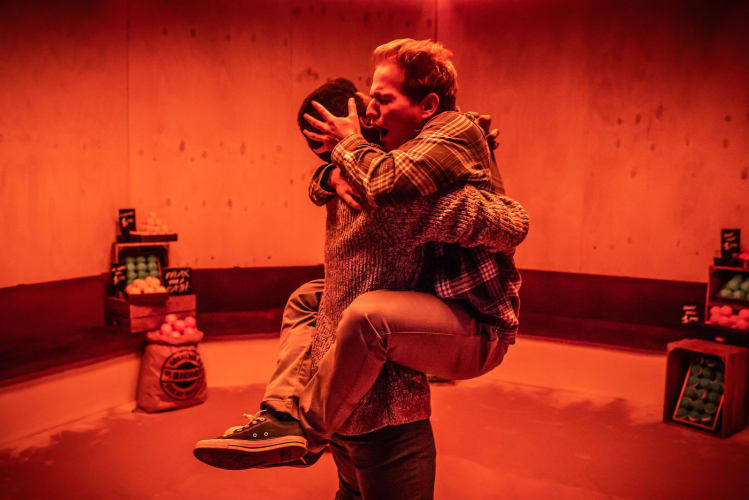 Jordan Seavey's play, here getting its European première, follows a gay relationship from first meeting through dating app Friendster through to break-up and after, from 2006-2011, but doesn't present events chronologically. Instead, it (literally) fast-winds backwards and forwards to offer short scenes and momentary glimpses in provide a mosaic of memory for the audience to put into order.
It is fast-moving, open and honest, a picture of what feels a very real relationship: both writing and playing carry total conviction. The protagonists are unnamed. They are called simply "The Writer" (Harry McEntire) and "The Academic" (Tyrone Huntley).
They live in Brooklyn and there are a few references that UK audiences may not pick up on (Williamsburg, for instance, refers to a local gentrified area not the historic town in Virginia) but that' s no barrier to understanding. Though place and people are very specific, this is a picture of a relationship with which almost everyone who has ever had a partner could identify. Being gay adds particular resonances.
The Writer describes himself as "a faggot and reformed Jew turned agnostic", the Academic, who is taking a course in Media Studies, says he is "from a long line of alcoholics and gamblers".
Touching but never sentimental and often very funny, the structure enables a great range of personal and political issues to be covered: first row, monogamy, jealousy, the need to be more supportive of each other's aspirations and achievements and wider issues of gay rights, marriage and homophobia which impact on their lives.
Each scene is like a chunk of real time and these actors are instantly in the action. Dialogue is often overlapping or simultaneous yet so well delivered that both are easy to take in, aided by the intimacy of director Josh Seymour's in-the-round production.
The play opens with The Writer in a Lush bath product shop buying a present. It is not until well into the 105-minute playing time when the scene returns that it becomes clear where that fits into the story, but the shop with its perimeter displays of fizzing bath bombs remains as the setting while the action is largely played out centre-stage on a pile of sand.
The abstraction of designer Lee Newby's setting allows the actors to make it any environment with the sudden changes in Jess Bernberg's lighting matching the immediacy with which they jump into a new scene. Chi-San Howard is also involved as movement director and the physicality of the production is an important element, not least in a joyous celebration of erotic love and in guiding its complex chronology.
Cash Holland as the Lush shop assistant and Dan Krikler as the "handsome, strapping" young man who intrudes as a third element in this relationship complete an excellent cast.
Jordan Seavey writes beautifully and Harry McEntire's sensitive performance as the Writer is beautifully matched by Tyrone Huntley's captivating playing of the Academic (so different from the Judas with which he grabbed our attention in Jesus Christ Superstar but just as charismatic). Together these actors delivery a palpable chemistry.
Reviewer: Howard Loxton