Hoof!
Rejects Revenge and Spike Theatre Company
Unity Theatre, Liverpool
(2005)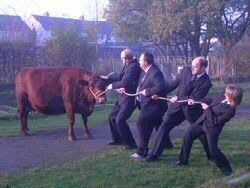 Take six very capable, very experienced performers and throw them out onto a stage without a clue what they'll be doing. There's no script, there's no plot. It's just you and the actors, theatre at its most naked.
Well not entirely naked; Rejects Revenge and Spike are two of the largest and most successful theatre companies in the North West of England with, between them, nearly 25 years experience of creating successful shows. They're both hugely capable, creative companies and both attract and develop a high calibre of talent. These people know what they're doing.
Fusing Physical Theatre and improvisation, the six performers explore and develop ideas and scenarios in an unpredictable, freeform manner. Picking up and developing a movement, a sound, they work together to weave fantastical stories. With no script but their collective imaginations, with no set but the bare stage, six experienced Physical Theatre actors can create entire, fantastical worlds. In theory.
Hoof! has been developed in collaboration with John Thies from The Hothouse Improvisation Studio in Los Angeles. It seems to want to move away from the more structured forms of improvisation perhaps more familiar to an audience from TV's Who's Line Is It Anyway, toward a more organic, less regimented form. It's a risk - improvisation is always a risk - and it can't always work.
In front of a full opening night house the company seemed unrelaxed, ideas tripped over each other and opportunities went undeveloped. Motifs were established and clung to at the expense of ideas. It did seem that the cast felt that they weren't at their most sparkling tonight. The audience chuckled rather than laughed, and parts of the show were frankly boring. There were some moments where one hoped that Hoof! was finally about to burst into life, but throughout its short 45 minutes, the whole thing felt like a cold engine struggling and, apart from the odd splutter, failing to start.
Despite the weakness of tonight's show I'd still recommend it. By its very nature improvisational theatre is experimental and unpredictable, it's never the same show twice and I've no doubt a cast of this quality will settle down quickly and people will delight in telling me that all the other performances were wonderful, but I can only report what I saw. In fact it's tempting to go back and see the show again to see what it should really look like.
Take the risk, see it if you can.
Hoof! is at the Unity theatre Liverpool until Saturday 17th December. Details on www.liverpoolunitytheatre.co.uk/
Reviewer: Ged Quayle