Hooked: Mr Sister
Brooke Jones and Holly Kellingray
Just the Tonic at The Caves
–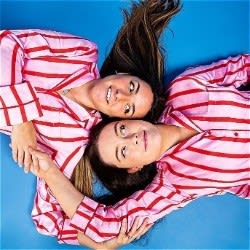 Holly and Brooke have been Hooked on each other since university and have decided to renew their vows to be BFFs forever! The vows, very loosely based on a student code-of-conduct, form the through-line for their off-the-wall sketches.
Featuring surreal stories of love, infidelity and kitchen appliances, Hooked: Mr Sister is a manic hour of sharp observation and well-observed yet daft characters, which you might expect from many high quality productions of this kind. However, Hollie and Brooke prove a cut above these, as they frequently dispense with the sketch comedy rulebook, filling every skit with a plethora of ideas, ramping up the irreverence, while remaining completely relatable.
The pair work tirelessly to maintain their quick-fire pace, while bringing a tricky lunchtime audience with them every step of the way. Seeing Hooked's Edinburgh Fringe debut put me in mind of early Smack The Pony sketches, where you find yourself completely buying in to often bizarre ideas because of the quality and conviction of the performers.
If you find yourself looking for emerging artists that are destined for great things, look no further than Mr Sister at the Just the Tonic Caves.
Reviewer: Tony Trigwell-Jones