Hooray for Hollywood
Raven Kaliana
Puppet (R)Evolution
Rosemary Branch Theatre
(2010)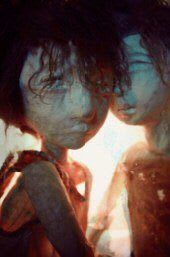 This ambitious company takes on the difficult subject of child pornography to present a dark tale of the exploitation of two tiny tots. Impossible to ask real children to play these roles and rather than have adults performing them, they do it with puppets, mixed with human actors.
To present this as though from the child rather than an adult viewpoint, we see only the lower half of the live performers on a stage the aperture of which changes from scene to scene, sometimes close up to the left, replaced by another framing to the right or stretched to full width to allow a figure to run right across it. The children are manipulated by two or more operators each, the puppeteers swathed in grey which also covers their faces so that they become anonymous and we presumably should treat them as invisible as with Bunraku animators, though I am not quite sure whether that is the intention here for they are made particularly visible by the lighting and by often reaching across in front of the child figures.
The children's voices are represented by a violin, which also echoes their unspoken feelings .and the only spoken dialogue is that of adults. Much of that takes place on the telephone with only one side of the conversation heard. I believe it was recorded by different voices and not spoken live, which could account for an unnaturalness about it and often of deliberate banality which did focus concentration upon the visual and the puppets. This risked missing important information, though beyond the very simplest outline of a story of a feckless father seeing an easy money-spinner in selling his son to the child porn industry there is not much there to absorb. This is not an attempt to investigate the motives of parents or pornographers in depth. There would be no time to do so - it lasts not much more than half an hour and quite a lot of that is taken up sitting in the dark between scene changes.
The first time I thought this must be some production problem but as they follow each other - often after only the briefest of scenes - they are perhaps intended to allow what we have witnessed to sink in. What we have been shown is often so ambiguous that there is nothing to sink in and sitting in the dark while someone plucks a violin behind me is not my idea of great theatre - though the violinist Susanna Ferrar is one of the best things in this show. The production was first developed two years ago and has toured extensively so this is presumably a fine-tuned version.
What left me baffled was how anyone could get a thrill from watching tiny tots like this in sexual situations with each other; if that indeed is what we were being shown; it was all so inexplicit, perhaps we were supposed to infer acts perpetrated on them. Indeed the scale of the puppets against the humans may have misled me. There was a dialogue reference at one point to school which I took to mean an adult was a teacher but I wondered, could the puppets have been intended to represent older youngsters?
In fact, what seemed a much more graphic representation of child- and especially infant abuse was the sight of the frightening looking amorphous figures of the puppeteers themselves, surrounding, dominating and intimately handling the children.
In the final moments the performers (Sara Kirkpatrick, Kat Damvoglou, Julia Eve, Joerg Stadler, Rachel Warr and Luke Wallens), free of their grey coverings, come in front of the proscenium and gives us a chance to see their considerable skill as puppeteers more effectively than anything that has gone before, perhaps because it suggested hope not desolation.
Some of the presentational ideas employed here could be very effective but they need a sharper focus than this. However, each performance is followed by a discussion and it seemed to me this brief work was more appropriate as a way of stimulating discussion at conferences and other events than as free-standing theatre.
Until 11th July 2010
Reviewer: Howard Loxton