Hoors
Gregory Burke
Traverse Theatre Company and The Ustinov, Bath, in association with Tron Theatre, Glasgow
Ustinov Studio, Bath
(2009)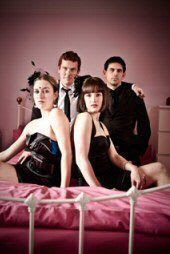 There was a buzz of anticipation surrounding the premier of Gregory Burke's latest play Hoors at the Traverse last month, but having been lauded for the smash hit Black Watch and the fine political comedy Gagarin Way, Burke's latest work left both critics and audiences disappointed. Now that the production has transferred to Bath, it's a disappointment I can't help but share.
Hoors, a co-production between Dominic Hill at the Traverse and Andrew Smaje at the Ustinov, Bath, couldn't be further removed from Burke's other work. It's a domestic comedy-drama, with plenty of great one-liners which elicited more than a few belly laughs from the audience on press night. But it's a story severely hampered by what is essentially a static narrative and four self-absorbed characters who, in the last analysis, are just not likeable enough to gain our full attention.
Twenty-something sisters, Vicky (Lisa Gardner) and Nikki (Catherine Murray), spend an evening together on what should have been the eve of Vicky's wedding. But after a drug-addled stag-do in Amsterdam went badly wrong, her fiancé Davey is with her in the house in a white coffin, ready to be buried on their wedding day. Joining the girls are two of Davey's best pals, Stevie (Michael Moreland) and Tony (Andy Clark). None of them seem altogether troubled by the way events have turned out; more pressing is the need to get drunk, coked and laid.
Michael Moreland and Andy Clark master Burke's text well, in strong performances that make the most of their characters' comic potential. Lisa Gardner and Catherine Murray fare less well, struggling by comparison to make the text work as well for them and consequently falling just short of the naturalism the piece demands.
Conor Murphy's slick set has been successfully re-worked for the smaller space of the Ustinov: the revolving stage is gone, replaced with less invasive freeze-frame tableaux as the action shifts to a different part of the set.
The comedy of Burke's text here does make for an entertaining evening, and the Bath press night audience filed out perhaps more contentedly than they apparently felt in Edinburgh. Nevertheless, Burke deliberately puts the action of this story outside the time frame of the play, and in doing so, he leaves very little to sustain us beyond four shallow, self-absorbed characters who never actually earn our sympathy. The net effect is a lingering sense of what might have been.
"Hoors" runs at the Ustinov, Bath until 20th June
Seth Ewin reviewed the production at the Traverse, Edinburgh
Reviewer: Allison Vale