Hope Place
Michael Wynne
Liverpool Everyman and Playhouse
Liverpool Everyman
–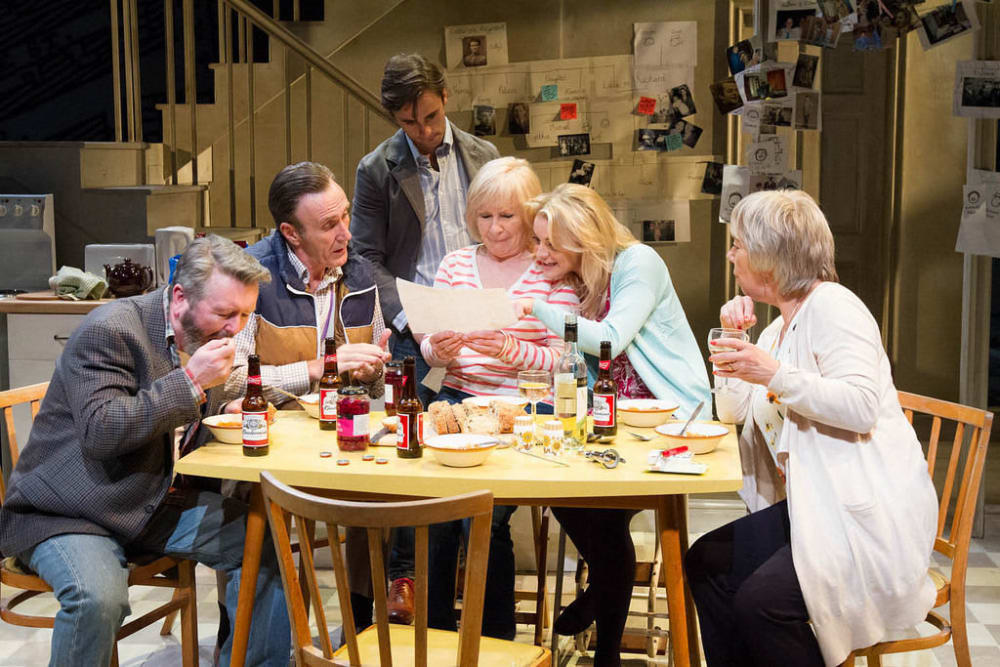 Home is where the heart is or so they say. And 8 Hope Place, Liverpool is the type of family home where the hearth is always warm and the hearts even warmer.
Sense of place is perhaps the most striking feature of Michael Wynne's new play currently enjoying its inaugural run at Liverpool's Empire Theatre.
Hope Place is also a play with a strong sense of history and a particular concern with how the past informs the present. And set designer Peter Mckintosh's ingenious upstairs downstairs victorian terrace is instantly recognisable as just such a space—one which has borne witness to more than its fair share of births, deaths, betrothals and just about everything in between.
It's easy to believe that generations of children have skipped and sung through the house's airy rooms and even easier to believe that husbands and wives have faced up to life's many vagaries across its cosy scullery.
But the piece really catches fire thanks largely to a cast of Liverpool acting stalwarts: Joe McGann (Jack), Eileen O' Brien (Maggie), Neil Caple (Eric) and Tricia Kelly (Veronica) are all too believable as a quartet of brothers and sisters whose sometimes petty squabbles fail to break a bond that runs just as deep as the foundations of their family home.
The play is in very safe hands with this foursome. McGann's presence is always reassuring, while Eileen O'Brien is outstanding as an elder sister haunted by memories of a childhood secret. Caple and Kelly meanwhile play the roles of more worldly siblings just right.
A special mention must also go to Michelle Butterly for a charming post-interval turn—a timely reminder of an era when the site of the present Everyman would have been ringing out to the sound of revelries of the music hall variety.
Indeed the presentation of past and present and the complexity of how the one informs the other is one of the play's chief strengths. The clever juxtaposition of different time periods allows the audience to traverse time thus glimpsing the siblings' now deceased parents—ghostly presences both—as they juggle with the demands of keeping a young family fed and clothed. Mr and Mrs Byrne drift back and forth thorough the family home in what is actually a stark reminder of life's transience.
Certainly some of the play's most memorable moments are to be found in the interplay between then and now. Older Maggie watching her carefree younger self at play with her siblings is nothing if not poignant. But such memories can only ever be fleeting, dislocated at best. In Hope Place the past is always an elusive yet ever present shadow. And the piece never wavers in its belief that if we wish to discover our true identities, then it is to the past where we must turn.
Thematically then there's more than enough to ponder over and as a whole the play manages to weave its themes into a rich tapestry. There are however one or two loose ends, such as the relationship between Veronica's daughter and PhD researcher Simon, which is never fully developed. And arguably the twist in the tale which finally exonerates Maggie from her childhood guilt does not quite manage to deliver the intended impact.
The overriding impression of Hope Place though is one of genuine warmth. What it lacks in suspense it more than makes up for with a cast of characters who sparkle with earthy humour. Meanwhile, Number 8 Hope Place itself manages to make its own impression, watching over the various dramas unfolding below with a dignified, reassuring silence.
Visitors will feel instantly at home at Hope Place where the welcome is always guaranteed to be hearty one full of scouse warmth.
Reviewer: David Sedgwick