Hopes, Dreams and the Bits In-Between
Elinor Boult
Thisaway Theatre Company
theSpace on the Mile
–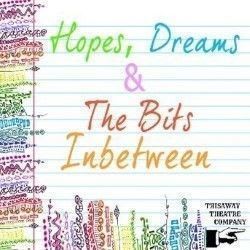 Taking fragments of conversations, memories and a few secrets, Hopes, Dreams & The Bits In-between gives a glimpse into the lives of strangers in a series of short, insightful scenes.
Moving from airport to motorway, a therapist's chair to confessional line, the cast muse on different themes including relationships and different types of love. A stand-out sequence features three overlapping monologues, each character remembering a woman they used to know and how that person had an impact on their lives. Similarly, we sneak a peek inside the cars of people stuck on the motorway, reacting to the actions of other vehicles but each little scene contained and isolated.
It is clear to see the drama techniques at work here from moving to fill spaces through to tableaux and group vocal work. The scene transitions are swift and, as only snapshots of characters and locations are provided, minimal set is used.
The tone is rather matter-of-fact, though, so although Hopes, Dreams & The Bits In-between has some amusing moments, it's predominantly a series of statements linked together. It's enjoyable but we don't feel much empathy with the nameless characters unless we connect with the scenario ourselves.
Confidently performed, this is a thoughtful collection of pieces presented well by a young company.
Reviewer: Amy Yorston