Horrible Histories - Incredible Invaders
Neal Foster
The Birmingham Stage Company
Curve Theatre, Leicester
–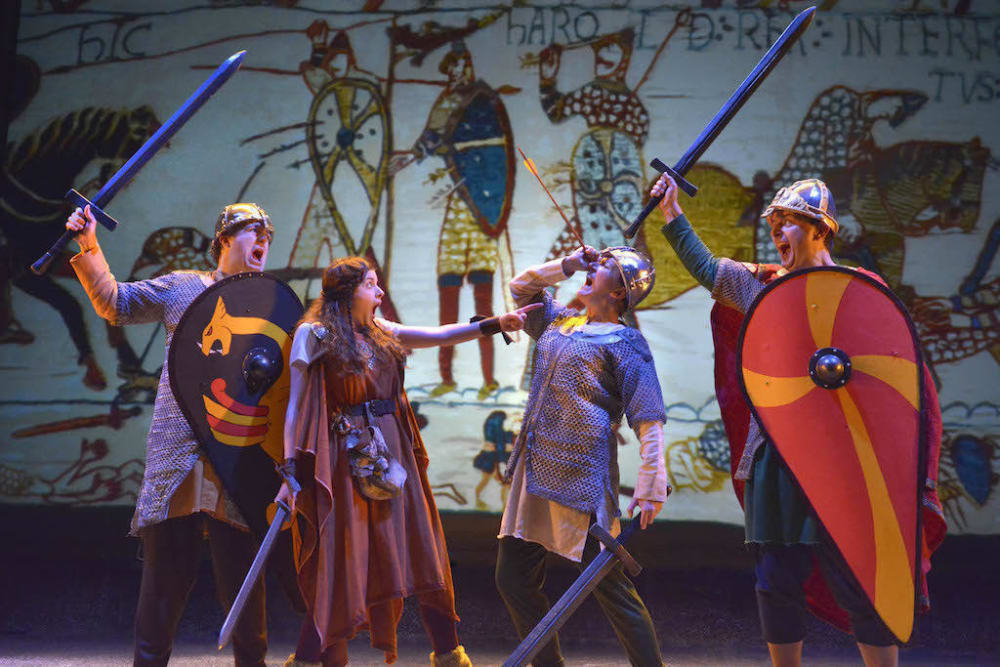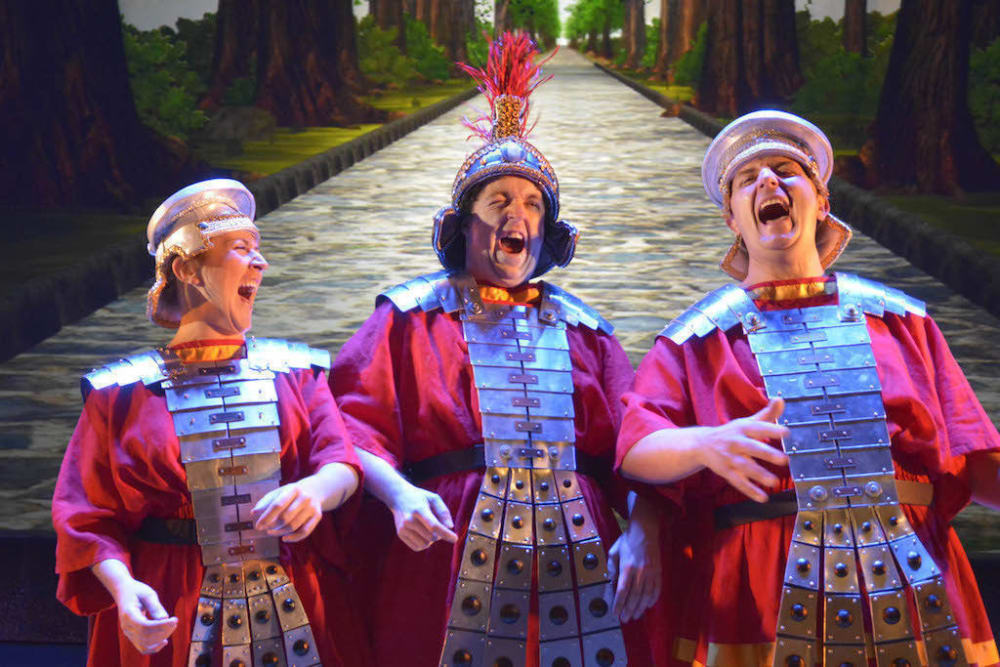 Terry Deary's Horrible Histories has its own place in history, with his best-selling children's books first published in 1993 adapted to a BAFTA-winning CBBC series and successful touring stage productions. Appealing to our inner 8 year old gross out fan, Horrible Histories obliterates the notion that history is boring, having lodged itself in our mass conscience in a messy explosion of guts, gore and bodily functions.
2015 marks the tenth anniversary of the first invasion of Deary's lucrative and enjoyable franchise to the world's stages. Their latest productions, Groovy Greeks and Incredible Invaders began a UK tour in April and continue on a long run together until December.
Written by Birmingham Stage Company's actor-manager Neal Foster (and also director), Incredible Invaders rides a chariot through Ancient Briton beginning with the Roman invasion of 43AD through to 1066 and all that in between.
Seen through the eyes of plucky Briton Mavis (Hannah Boyce) and with the aid of projected computerised images, volleys of fascinating facts are fired at an alarming rate and include methods of punishment Roman, Saxon and Viking-style, the Danelaw, how to build a Roman road and, most usefully, a Saxon cure for headaches.
For this performance, a bout of illness necessitated understudy Chris Yarnell and Foster replacing Charlie Buckland and Laura Dalgleish, yet warnings of script-in-hand performances were almost unnecessary—a fine job was done by all (it would be amiss not to mention Ashley Bowden to complete this hard-working cast).
With the pace set at 'manic' this is high tech panto fun: slapstick, irreverent yet informative and not patronising to the intended audience—the bonkers 'Great British Bash Up' sketch with Paulinus versus a badass Boudicca a perfect example.
The interval represents something of a watershed; having collected our Bogglevision 3D specs we are ready for the distinct, post-interval shift in tone where the animations really come into their own. Snakes lunge, spears and limbs hurtle out into the audience followed by blood splatters and unpleasant squelching noises. It all seems a bit too real for some terrified younger audience members and the age guidance of 6 to 106 should be borne in mind. This is perfect for the Key Stage 2 market, not younger.
Some references to programmes such as Grand Designs and Come Dine With Me may be lost on a good proportion of the audience but it doesn't seem to matter. We're soon onto more familiar ground with a sing-along and ubiquitous 'I bet this side of the audience can sing louder' show down.
Nick Sagar's sound and Jacqueline Trousdale's screen image design is vital to this show and in the second act, the screen is a star in its own right with the final Hastings battle scene particularly imaginative. This is also the clearest I've ever heard actors on stage at Curve and the whole cast do a great job syncing their actions with the many sound and visual cues.
The handful of songs are well done but lack the impact of the TV shows, however, all in all, Incredible Invaders is a right rollicking good ninety minutes' entertainment.
Reviewer: Sally Jack