Hot Ice: Allure
Produced & directed by Amanda Thompson
Stageworks Worldwide
The Arena, Blackpool Pleasure Beach
–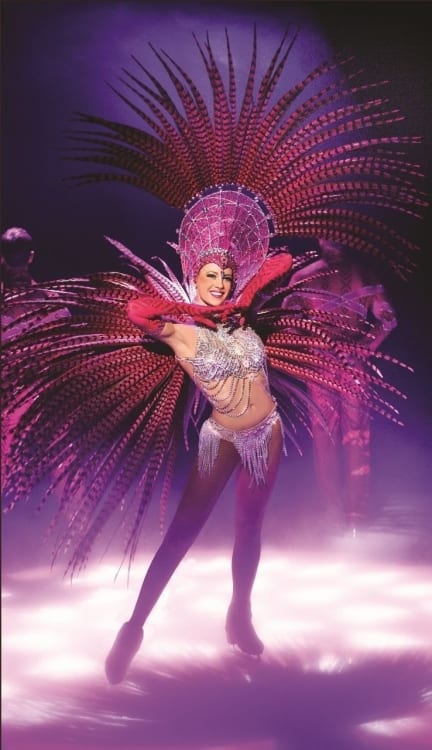 The name of this show—projected on to the ice by spotlight—looks increasingly like a health and safety warning!
It is a blisteringly-fast presentation of ice dance theatre in which 26 skating stars from around the world perform spectacular and often openly-dangerous routines, dressed in hundreds of lavish costumes—and with production values—that would not disgrace Las Vegas.
So when they all conspire to actually set fire to a semi-circle of ice, and create a blazing finale to a wild jungle-themed routine, here is a show that more than lives up to its title.
With seven decades of tradition behind them, the team behind Hot Ice is always challenged to tweak the formula rather than re-invent the artform. This year's production does just that by keeping its focus on the breathtaking skills of its international stars.
In particular, it underscores how the jaw-dropping lifts and somersaults can only be achieved through the speed and momentum of performers who combine athletic strength with balletic grace.
The special effects and lasers are kept to a minimum and if the largely-recycled score sounds a little incessant in the first act, then the second act is a highly-accomplished blend of music and choreography that manages several climaxes, notably an intoxicating Spanish-flavoured set piece.
Audiences will soon pick out their own favourite performers but the Japanese soloist Lisa Mochizuki gets several opportunities to display her elegance and athleticism, and pairs partners Daria Perminova and Evgenni Belianin perform increasingly-audacious lifts, at least one of which would be death-defying if motionless, never mind at speed, and above unforgiving ice.
It's just a shame that the glossy programme does not properly profile the cast's glittering careers or seek to identify them in each of the show's scenes.
Reviewer: David Upton