Hot Stuff
Devised by Paul Kerryson and Maggie Norris
Oldham Coliseum
Oldham Coliseum
–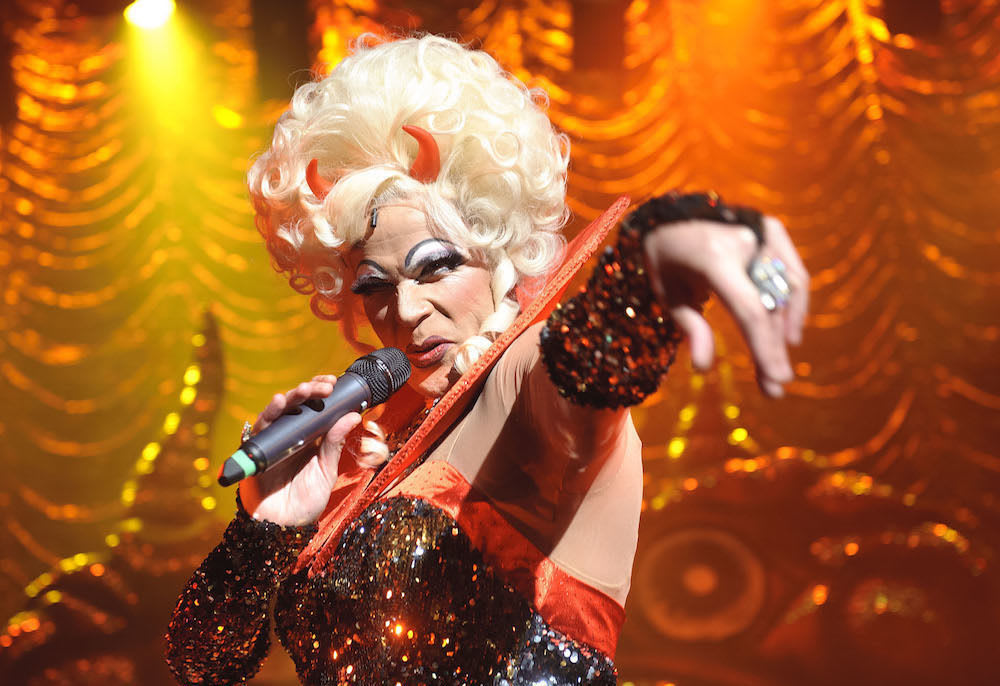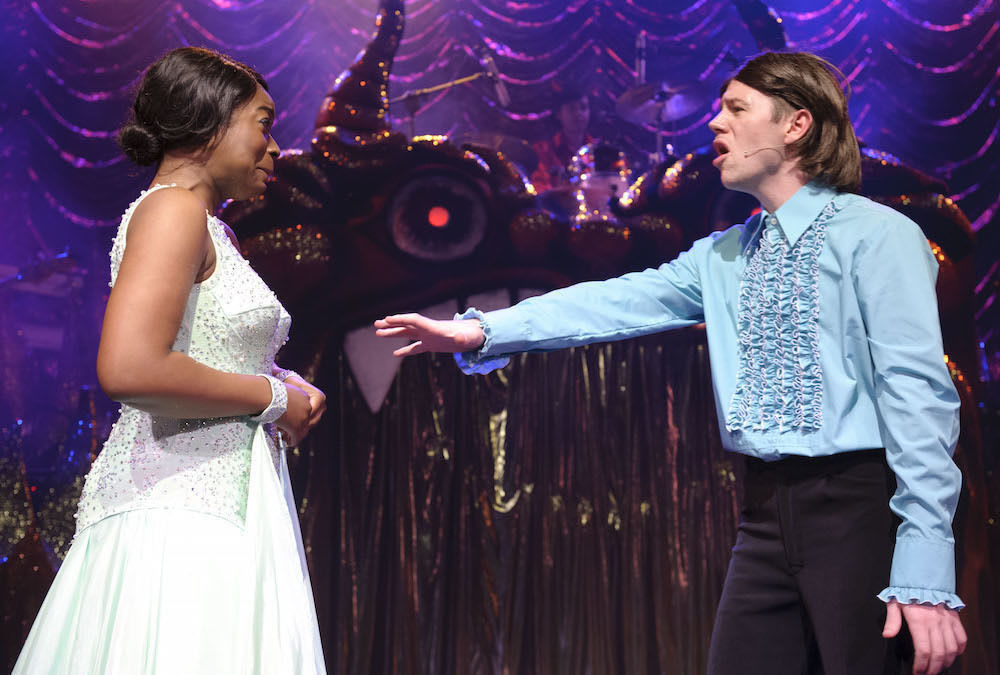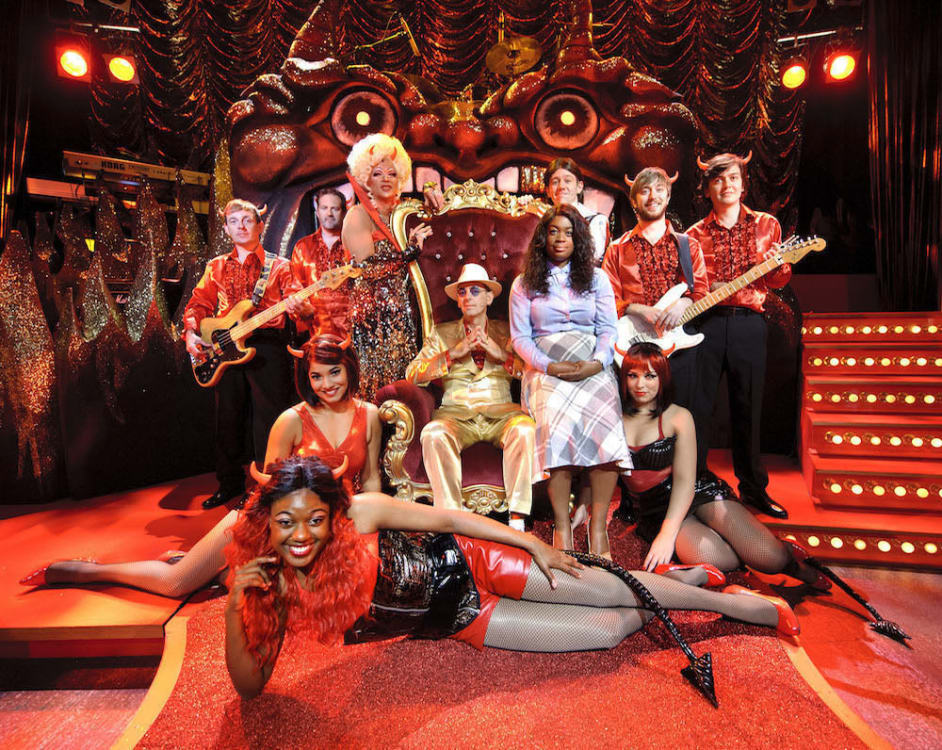 It is what it is, or so a friend of mine is fond of observing. But just what is Hot Stuff?
Now aged 25 and returning to the place of its conception, Hot Stuff is a jukebox musical, an adult pantomime and, without doubt, a very fine night out in Oldham. (Italics indicate a phrase I never thought I'd hear myself, a Boltonian, say.)
Joe Soap (Benjamin Stratton) is a young nobody who dreams of becoming rich by way of being the world's greatest rock star. Joe should, of course, be thankful for what he's got. What he's got is Julie, a loving girlfriend who dreams, while sewing sequins on her own frock, that she and Joe might one day be professional ballroom dancers. Sweet.
Unfortunately for Joe, his ambitions have caught the attention of Lucy Fur (yep, that's right), who's in a position to make all his dreams come true… if only he will sign on the dotted line. You don't have to be familiar with Marlowe (or Goethe) to work out where all this is leading. Plot-wise, Hot Stuff is not startlingly original; that's not what its devisors were aiming at. Check your artistic pretensions at the cloakroom when you arrive. It is what it is.
As Joe is about to discover, the road to Hell is paved not with good intentions, but with an impressive range of popular music from the 1970s. Kerryson and Norris's smart idea was to hang a host of '70s hits on an undemanding storyline. This show makes full use of sources from disco, through glam rock and prog rock to punk (throwing in a bit of soul and even the Beatles, for good measure—watch out for Paul McCartney, complete with left-handed violin bass).
Foxton's set design—a wall of gold lamé—honours all of these; everywhere the glint of gold. Even the Mouth of Hell sports a gold tooth (nice touch). The sheer number of costume changes adds to the energy of the show—credit not just to the designer but to wardrobe supervisor, Alison Cartledge.
Sound designer, Lorna Munden, has a lot to deliver here and does not let the production down. The dance routines are just as key a part of this production as the music and the humour—and the cast move with precision and energy throughout.
At first, Joe is a reluctant Faust, even offering to marry the lovely Julie. There follows a chapel scene which would have made Kenny Everett proud, with the Boss, aka the Devil himself, leading the ceremony as a more than slightly stoned pastor. The Boss (Paul Duckworth) steals this very funny scene.
The Boss and his sidekick Lucy call up a wicked seductress—Miss Hot Stuff—to lure Joe away from the faithful but demure Julie. Abigail Climer fits into this role even better than she fits a silver catsuit. It's not difficult to imagine many a young man being willing to sacrifice his soul in pursuit of her.
Of course, having acquired fame, fortune and the '70s equivalent of Helen of Troy, Joe (now reincarnated as rock god, Lenny Lurex) begins to feel the emptiness of it all. He's not happy. Lucy Fur points out that happiness was not one of his demands when the contract was drawn up.
When Julie tells him it's too late to reconcile ("I Will Survive" getting one of the most rousing ovations of the evening), there is little left but for him to mutate into punk rocker Jimmy Filth. Now we know there really is no hope for him.
Ibinabo Jack manages to bring a warmth and resilience to the role of Julie. She is also the best of a fine bunch of singers. The music lover in me regrets that her outstanding rendition of "Midnight Train to Georgia" is sacrificed in the cause of some physical humour from the backing band, but then this show isn't a tribute to Gladys Knight. It is what it is.
Lakesha Cammock and multi-instrumentalist Nicola Hawkins contribute admirably, as do the versatile band (Howard Grey, Tom Connor, Adam Keast and Mark Newnham).
Paul Duckworth has a good deal of demonic fun in the role of the Boss (with multiple witty impressions thrown in).
The evening, however, belongs to Alan French's Lucy Fur. French brings all the skill and experience of a true Dame to the show, exemplifying (even more than the tireless Duckworth) how to work an audience. All queen and no drag, you might say.
Lucy Fur's costumes are, if anything, even more impressive than those worn by the female members of the cast (and that's saying something) but then, to be fair, there is more of him to cover. I have no idea how those sparkly, spangly outfits feel to wear, but lit as they are tonight (lighting designer, Jason Taylor) they look fabulous.
A word of warning to anyone still carrying a torch for the late Baroness Thatcher: it might be wise to wash a tranquiliser down with your interval drink. French really has fun in act two.
Hot Stuff. It is what it is, and what it is is a grand night out. In Oldham! Who'da thunk it?
Reviewer: Martin Thomasson