Hotel Paradiso
Lost in Translation
Lost in Translation
Nuffield Theatre, Lancaster University
–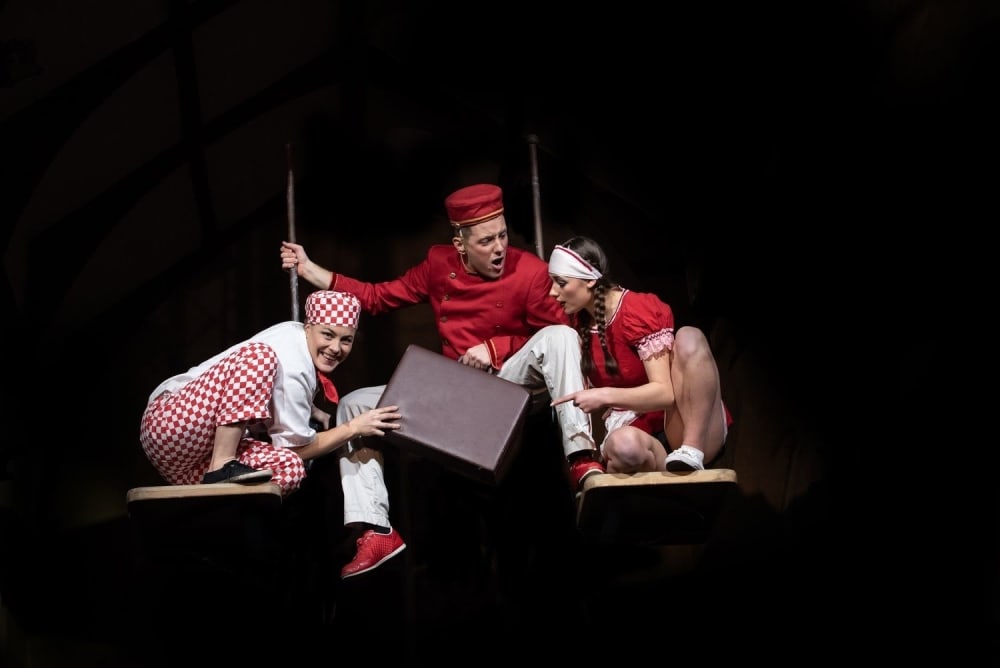 Check into this new show, from small-scale but hugely-talented circus performers Lost In Translation, and you're guaranteed anything but a comfortable stay...
Instead it's 60 minutes of edge-of-the seat artistry, knockabout fun, and as much entertainment as can be reasonably packed into such a low-tech, high-risk show.
All of this given its première new version in the black box confines of Lancaster University's Nuffield Theatre, where the thrills and spills are almost as intimate as those you might recall from the circus of old. Minus the sawdust and animals of course.
Instead there's juggling, acrobatics, somersaults and slapstick that provoke squeals of delight from youngsters and shudders of apprehension from grown-ups, who may better appreciate some of the genuine danger involved! You just have to pray that none of the former attempted this at home later.
It's all played out around the story of a hotel threatened with closure, but one where Serge the concierge supervises the anarchy; Madame the proprietor attempts to drown her sorrows while spinning hula hoops; the chambermaid dangles from a chandelier; a lovestruck bellboy juggles champagne bottles; and the 'baddie' strongman and his diminutive accomplice The Banker end up swinging high above the hotel swimming pool.
The comic invention and technical accomplishment from this international company of entertainers is both enormously amusing and frankly astonishing.
Annabel Carberry's routine, with those hula hoops, is a riot of funny physical theatre combined with an insouciant talent for spinning the playground toys about her person.
It's all performed to a special soundtrack devised by composer and multi-instrumentalist Roger Eno, brother of Brian.
Lancaster Arts, based at the city's university, has provided more than a few unique shows such as this in recent times and are to be congratulated... as well as actively supported.
Reviewer: David Upton