Hotel Paradiso

Lost in Translation Circus
Underbelly's Circus Hub on the Meadows
–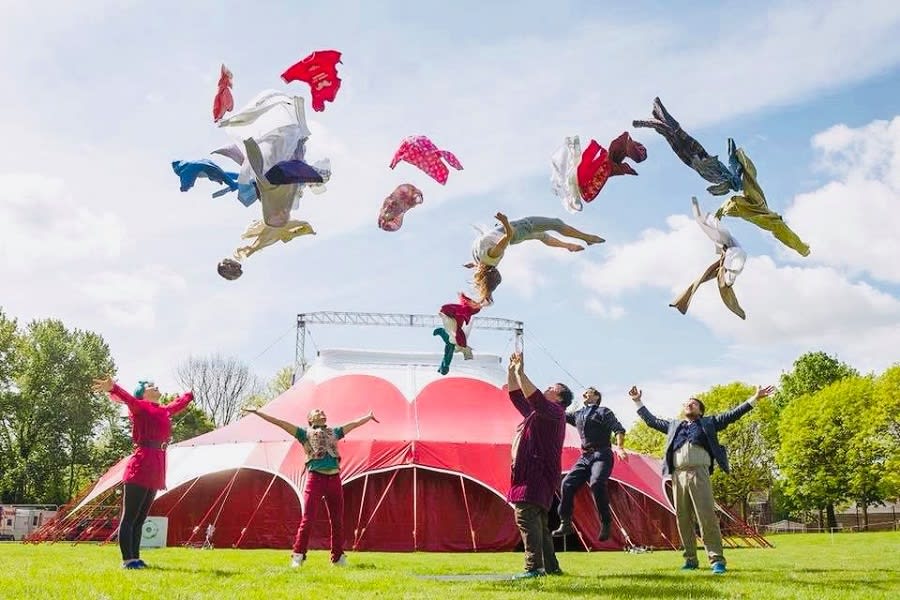 Lost in Translation is a troupe of skilled circus performers who bring their production of Hotel Paradiso to the beautiful Lafayette tent on the Meadows.
This is a story of a failing hotel on the Riviera that has fallen on hard times, following the death of the owners in a tragic accident with guests no longer coming. It has been left to their daughter to run, but Madame is facing financial ruin.
Her loyal staff are desperately trying to do everything they can to save the hotel, but when a pair unscrupulous bankers arrive, they are given 24 hours to raise the money or be made bankrupt resulting in many boos of disapproval from the audience.
Integrated into this storyline are some impressive circus skills. The concierge deftly performs on the Cyr wheel. The maid is left suspended from a lampshade whilst cleaning and gives a dazzling ariel routine.
Rosin Morris is outstanding as Miss Sausage; her high aerialist skills are amazing. She is even used as a skipping rope by the cast.
Madame is in desperate need of a drink but she has to negotiate a hula hoop to reach the bottle and glass and ends up with dozens of hoops to spin. Hilarious.
There are many comedy clowning moments in this performance that the audience loved and the spectacular finale is breathtaking.
This is a circus feast for all the family.
Reviewer: Robin Strapp