Hot Flush
Book by Julie Benson, music and lyrics by Olly Ashmore
New Victoria Theatre, Woking, and touring
(2007)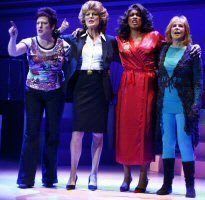 Closely following Mum's the Word, written by six young mothers and recounting hilariously the trials and tribulations of coping with young children, we have now moved on a generation and reached the dreaded menopause - another "girls' night out" and enough to send any mere man running for the nearest exit.
In fact, a male colleague looked completely shell-shocked as he sank into the seat beside me and gazed in horrified fascination at a theatre filled with women, most waving their little pink "Member of the Hot Flush Club" fans, supplied courtesy of the theatre. Women of all ages had come in droves with mothers telling their daughters, "Just you wait – your turn will come," and a few brave men had been persuaded to attend, probably with no idea of what they had come to see.
As you would expect the physical and mental problems of the menopause are discussed with relish – hot flushes, memory loss, incontinence, night sweats, reduced libido, changing shape, HRT etc. etc. and it could have been a catalogue of complaints, but these women can laugh at themselves, and so could the women in the audience as they shrieked with laughter and delighted recognition at each dilemma.
Most of the jokes – apart from against themselves – are aimed at men. "Men are like laxatives – they irritate the shit out of you!" and "Like a video – Fast Forward, Pause and Eject". The Man has his turn later.
The whole is presented not only with hilarity and some really great singing, but each of the women has a story to tell. Myra (Rula Lenska) is separated, husband having left her for a 'bimbo', Helen (Marti Webb) is widowed, Jessica (Rachel Izen) has a husband who, now retired, spends all his time in his shed, and Sylvia (Sheila Ferguson)? Well her sex drive has not diminished one bit. These four are all women of a certain age and no doubt familiar with the symptoms they portray so hilariously, as were the women in the audience.
Olly Ashmore's music has 'borrowed' shamelessly from some very familiar tunes, but with very different lyrics, played with great enthusiasm and plenty of action by "The Hormonettes", a five piece girl band high on stage throughout.
The story is of the four women and the men in their lives, the men all being played by Sam Kane – and what a revelation, in more ways than one. His wardrobe is far in excess of theirs as he changes costumes constantly from his Calvin Kleins to full judge's regalia with a whole host of characters in-between, not to mention his appearance in the 'speed dating' sequence as .. well, go and see for yourself, but it had the audience shrieking with laughter again. Revealing an exceptional talent for comedy, as well as a great body, he appeared to be thoroughly enjoying himself, especially when "The Man" has his turn and addresses the audience with his "Male Chauvinist Pig" opinions on women. This provoked plenty of audience reaction too, with indignation mixed with laughter.
This is a terrific, well presented fun show, and even my colleague admitted to thoroughly enjoying himself although I noticed his most enthusiastic applause was for the chauvinistic Kane.
Touring to Stoke, Bradford, Malvern, Poole, Aberdeen, Wimbledon, Newcastle.
Katharine Capocci reviewed this production in Newcastle.
Reviewer: Sheila Connor