Hound of the Baskervilles
Adapted from the Arthur Conan Doyle novel by Steven Canny and John Nicholson
Original Theatre and Octagon Theatre Bolton
Northcott Theatre, Exeter
–

Listing details and ticket info...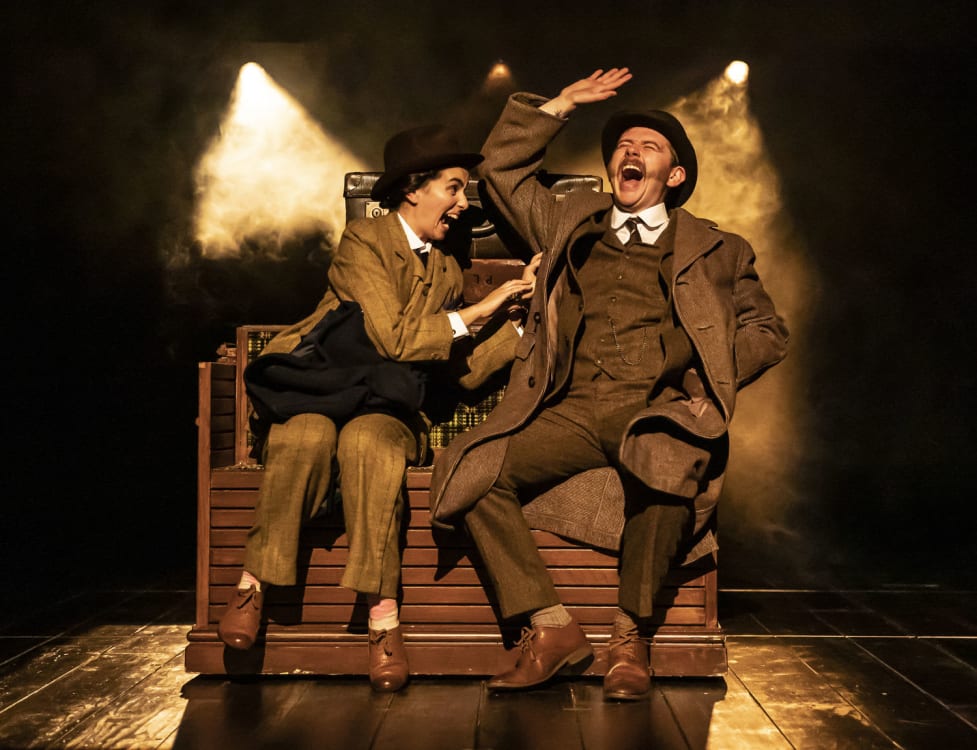 Just what the doctor ordered: a slick frivolous three-hander whodunnit with much hilarity and impressive effects.
No surprise then that Original Theatre's Sherlock Holmes murder mystery sold out in the West End. Currently touring, it's well worth grabbing a ticket or six. A piece for all the family.
The familiar tail tale of the powers of darkness that exhalt on the fog- and dog-ridden bleak landscape of Dartmoor is given the Lotte Wakeham (Artistic Director of the Octagon Theatre Bolton) Midas touch and, with a barking mad trio playing some 12 (I lost count) parts, what's not to like? Admittedly, I started out being a tad 'seen this all before: exuberant racing about with the wrong wig and silliness' but the pared-down set, few props and clever touches soon wins over.
For the uninitiated, HOTB is a gloomy story of Sherlock sleuthing (undercover while his earnest gofer Dr Watson blunders about writing notes and following red herrings) amidst Dartmoor fog, perilous quicksand, escaped murderers, mysterious midnight signalling, odd bucolic yokels and more. His mission is to save the latest dicky-hearted Lord of Baskerville Manor from the curse of certain death at the paws of a slavering beast.
Steven Canny and John Nicholson for Peepolykus's adaption for the stage is a fab spoof built on an awful lot of dry ice / smoke, a fireplace, door, bed, ingenious box / desk and precision timing. All very clever.
Jake Ferretti (The Kitchen, The Curious Incident of the Dog in the Night Time, The Understudy) is mainly an aloof, posturing Sherlock Holmes / stinky hermit but turns his hand to, at least, Barrymore the butler, his wife, the suspicious child-poisoner Stapleton and the glorious Cecile whose dance moves amidst bubbles and disco ball, are worthy of Strictly.
The diminutive Serena Manteghi (Welcome To Iran, To Build a Rocket, Mrs Wilson) is the affable, what-ho! canine target Sir Henry who loses his clothing, his heart and almost his life in blissful ignorance (and puts in fun performances as a London cabbie, and lamb-in-a-bag yokel) while the bungling sharpshooting Dr Watson is played by Niall Ransome (Mischief Movie Night, The Comedy About A Bank Robbery, Fcuk'd)
So much to commend it: perhaps the stand-out moments are the steam room shenanigans, the train journey snapshots and, of course, the frenetic fast-forward replay of the first half.
Great fun.
Reviewer: Karen Bussell