The Hound of the Baskervilles
Sir Arthur Conan Doyle, adapted by Clive Francis
Yvonne Arnaud Theatre, Guildford and touring
(2007)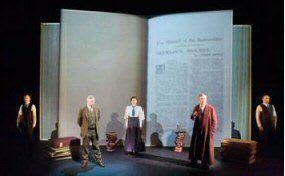 On the centenary of its first production in 1907 The Hound of the Baskervilles is on the rampage again. I did not see Clive Francis's hugely successful version three years ago so I cannot compare, but I believe it has been re-thought, revised and re-worked to produce this exciting and inventive visual treat of a yarn considered the most well-known and popular of the Sherlock Holmes stories, surprisingly written long after Doyle had killed him off but eventually brought him back to satisfy public demand. Perhaps that could account for the humour apparent (and much appreciated by the audience) in Holmes's impossibly accurate diagnoses of the seemingly infinitesimal clues to be found in every item. Watson's comment that he seemed to have eyes in the back of his head brought forth the response that a highly polished silver teapot had a lot to do with his amazing powers of observation.
The 2004 version had only four men playing all the characters, switching effortlessly between them and swapping gender when necessary. Not necessary here as Hattie Ladbury does a sterling job as housekeeper Mrs. Hudson – exasperated by, but totally loyal to her egotistical employer - not to mention the other four characters she performs with equal aplomb.
Peter Egan is a quietly arrogant Holmes, totally confident that he is always right, and Philip Franks is his admiring friend and companion Dr. Watson who frequently addresses the audience in a conspiratorial manner, speeding the narrative along at a cracking pace, in spite of his comment "It's all so devilishly complicated" which is so true. A little prior knowledge of the story could be useful.
Andrew Harrison copes with three characters, and Rupert Mason manages five, both switching seamlessly from one to another, but however accomplished the actors – and they are excellent – it is the amazing set and projection design which create the stunning and innovative thrill of this production.
These are supplied by Timothy Bird, whose recent contribution to the Menier Chocolate Factory's production of Sunday in the Park with George went a long way towards the acquisition of the multitude of awards heaped upon it, and if he doesn't received awards for this too I want to know why..
The design is of a huge open book, stretching across the stage, and as the pages turn the story unfolds in front of us with the different locations appearing on the screen as we are switched from Holmes's study at 221B Baker Street to the wilds of Dartmoor and beyond. A running figure and galloping horses traverse the pages and action is often hazily behind the screen, crossing the moors or climbing the staircases of Baskerville Hall, while Matthew Bugg's haunting music is played on a violin. Impossible to adequately describe, but totally stunning.
Stage props are simply piles of books which, with the slightest adjustment, become seating, a post office counter, a carriage, or what you will.
Gregory Clarke's sound effects too are amazingly effective, from the eerie and frightening howling of the hound, to the clack of billiard balls in a game played on an invisible table, while lighting (Sam Hopkins) and costumes (Sarah Grange) perfectly complement the whole.
A masterpiece of ingenuity and expertise, as well as a thrillingly entertaining evening.
Touring to Darlington, Mold, London (Greenwich) and Nottingham.
Reviewer: Sheila Connor