House
Daniel MacIvor
Suspect Package
Finborough
(2006)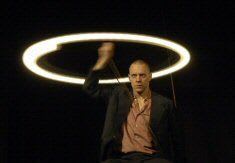 When Victor (played by Canadian actor Trevor White) bounds onto the stage, all nervous energy and hysteria, it is the start of a rollercoaster ride for both his character and the audience which sustains until the end of the 80 minute performance.
However, once he begins to point to various members of the audience (oh no, is audience participation a pre-requisite for the show?), the anticipation of an entertaining evening is tempered by a vague feeling of unease. The banter stops short of asking us all to do a turn, but is in keeping with playwright MacIvor's quest to develop a connection with the audience so that they become part of the experience and not mere bystanders.
At various points during the show, the unease cranks up a notch and even becomes scary when there is a total blackout but we can still hear Victor's eerie voice - would the voice move about and stand next to us in the darkness? Well, I won't spoil it.
As the play unfolds, we learn that Victor is a disappointed man who had dreams of being an engineer but ended up instead working for a company that cleans septic tanks, like his father before him. He is at a crisis point in his marriage to Mary Anne - because, he bluntly tells us, Mary Anne despises him. He is stuck in a rut in his job. As the play progresses, these two crises become entangled. He attends therapy sessions where he is deeply annoyed by the group leader, with whose trendy mantra "Call me Joe" Victor refuses to comply.
Trevor White gives an edgy, energetic performance as the nervy Victor. You can't decide whether he's mad, bad or sad - maybe he's capable of all three. At any given time, all his pent-up frustration could explode off the stage and into the audience.
The director, Josie Le Grice, has interpreted MacIvor's work before, including the World Premiere of Marion Bridge, later adapted as a film. She uses the Finborough's space well to play up both the comedy and the scary edginess.
But if all this sounds less like an evening's passive entertainment and more like hard work, MacIvor is clever enough to keep the audience on side by his comic dialogue and left-of-field asides. Victor's Dad, for example, ran away to join the circus and developed an act called "The Saddest Man in the World". Just when our interest has been well and truly caught, Victor refuses to elaborate - "Long story, no time to tell it".
MacIvor is one of Canada's best-known and award-winning playwrights who is also a screen actor and director. With House, he succeeds in his quest to draw the audience into the play's world, by allowing Victor to remove himself from the character's story and mingle among the audience so that they're never quite sure what's going to happen next. At one time Victor threatens to set fire to the theatre by striking matches. By doing this MacIvor creates a second reality - the story on the stage and the one in the theatre.
Running until 25th February
Reviewer: Bronagh Taggart