House of Ghosts
Alma Cullen
Richmond Theatre, Surrey
(2010)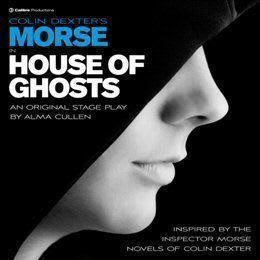 Calibre's production publicity proudly proclaims this new play by Alma Cullen as the first transition of Inspector Morse from television to the stage.
But the impression given by Robin Herford's busy production is that this complex piece with a dozen Oxford settings, could equally have begun life as a draft screenplay, set in the late 1980s at a time when Ms Cullen was busily engaged in writing four original scripts for the Inspector Morse series with guidance from Colin Dexter, author of the Morse novels.
Conveniently enough for this Morse thespian career development, the basic location is a proscenium arch theatre, presumably the Oxford Playhouse, where a touring performance of Shakespeare's Hamlet is already in progress, played against a fixed ecclesiastical backdrop. But moments later the young actress playing Ophelia suddenly dies on stage, collapsing to the floor as blood gushes from her mouth.
By good fortune Inspector Morse, doyen of the Oxford CID, is a member of the audience and — suspecting foul play (no pun intended) — immediately takes charge, setting up the stage area as a crime scene.
From this point onward events, encounters and changes of location come so fast and furious that they seem to cry out for the flexibility and focus of film. Nil desperandum, Herford takes his cue from Shakespeare and simply brings his actors on stage, complete with various props, where they deliver their lines in brisk style before disappearing into the wings to make way for the next scene or the next group of actors.
For what is essentially a naturalistic drama this does have some drawbacks: each scene marks a new beginning and the unexplained but regular comings and goings distract us from plot and character development.
As always in such circumstances the actors come to the rescue with some well delivered scenes of striking comic and dramatic power, especially those involving Colin Baker as Morse, who relishes every opportunity to interrogate his suspects with wit, fiery intuition and an amusing disregard for proper police procedure.
But I do wish that Andrew Bone playing Detective Sergeant Lewis, whose chief purpose is to maintain the casebook scorecard, would deliver his lists of names and forensic developments with more deliberation so that we can also keep track of the fast-moving plot.
Among the several suspects there are fine performances by David Acton as the theatre director with a casting couch in his back room, Lynette Edwards as an elegant and romantic foil for Morse, Caroline Harding whose New York-born producer struts her stuff to good effect, and especially Gay Soper as a veteran actress clinging desperately to her part as Gertrude, but also giving us a master class in how to play drunk on stage without falling down or overdoing the slurred speech - a super trouper.
Incidentally, I spotted the murderer quite early on, but the play ends almost before the avenging felon has been properly charged and brought to justice, leaving the matter slightly hanging in the air.
Touring to the New Theatre, Oxford (September 13-15): Grand Opera House, York (September 16-18); NewTheatre, Cardiff (September 21-25); Belgrade. Coventry (September 27-October 2); Malvern Theatres, Malvern( October 4- 9); Civic, Chelmsford (October 11-16); Devonshire Park, Eastbourne (October 18-23); Theatre Royal, Newcastle-upon-Tyne (October 25-30); Grand, Wolverhampton (November 1- 6); Derby Theatre (November 8-13); New Victoria, Woking (November 15-20); Lighthouse, Poole (November 22-27); and the Palace, Southend-on-Sea (November 29-December 4).
Reviewer: John Thaxter