How the Other Half Loves
Alan Ayckbourn
Bill Kenwright
Everyman, Cheltenham
–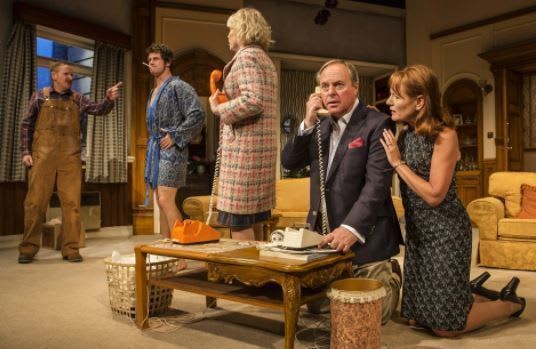 They roared with laughter, they cheered when the rotter got his rotten desserts and the man near me repeated aloud the funny lines. Very frequently.
Alan Ayckbourn's early play, written and set in a time that will always be the 1960s, may show its age in the social relations of the period, but it points forward too to the playwright's trixiness and hints at darker class commentaries to come. Above all, however, it's still a hoot.
The piece is built around an affair between Fiona (Caroline Langrishe) and the contemptible, unprincipled Bob (Leon Ockenden), an affair which becomes hopelessly entangled because of misunderstandings by the doltish Frank (Robert Daws), Fiona's husband and Bob's boss.
Don't expect profundity. Much is farce, in which the twerp is very twerpish, the boor very boorish, the mouse very mousey and there is the obligatory reference to fixing Frank's ballcock.
Yet Ayckbourn can turn a simple shopping list into a statement of social status, and find a joke that in just four words says everything about dim, naïve old Frank. "I've left him," says Charlie Brooks's Teresa after ditching no-good husband Bob. "Where?" says Frank.
That wonderful Ayckbourn stagecraft is already evident, with two dinner parties, held on consecutive nights, played simultaneously, with actors turning from one to the other between mouthfuls of avocado or chicken noodle soup.
The set, designed by Julie Godfrey, is split, the wallpaper, the entrances, even the sofa and coffee table divided to represent the home styles of Frank / Fiona, Bob / Teresa. Alan Strachan has been directing this comic masterpiece for 30 years and the result is a joy to behold as actors in different time zones rush past each other, with inches to spare, like traffic in a speeded-up film.
The pace is remarkable, yet the cast make every line sing, and even the silences, in fact especially the silences are funny.
Daws shows the way as Frank—it's not easy being that stupid. But the stars of the show are Matthew Cottle and Sara Crowe as Frank's junior employee William and his deathly shy wife Mary. Their hilarious double act is worthy of one of those golden clips of silent comedy, which included Cottle turning purple (how did he do that?) trying to open a bottle of wine, and Crowe producing hiccups to order like a well-drilled percussionist.
Reviewer: Colin Davison