How the Other Half Loves
Alan Ayckbourn
Grand Opera House, York
–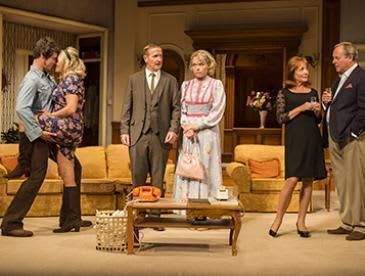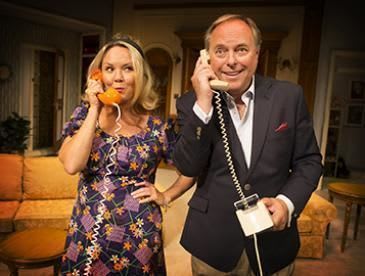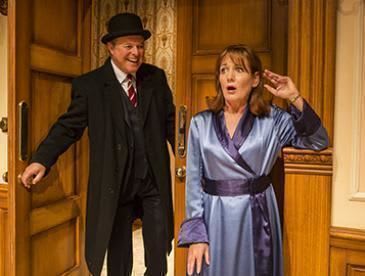 First performed in Scarborough in 1969, How the Other Half Loves is the play that proved Alan Ayckbourn to be more than just a one-hit wonder.
Like his previous success Relatively Speaking, which reached the West End in 1967, How the Other Half Loves is an ingeniously plotted comedy of adultery and deception. It also represents one of Ayckbourn's earliest experiments with theatrical time and space.
The play revolves around three couples: the upper-class Fosters, the middle-class Phillipses and the petit bourgeois Featherstones. Rather than present us with a single location, Ayckbourn overlaps the Fosters' well-to-do abode and the Phillips' messy home, allowing us to observe two separate households at once.
Bob Phillips (Leon Ockenden) and Fiona Foster (Caroline Langrishe) have been conducting a secret affair. When they struggle to account for their whereabouts on the previous night, they lie to their spouses—Teresa (Charlie Brooks) and Frank (Robert Daws)—by saying they were comforting Mary (Sara Crowe) and William Featherstone (Matthew Cottle) respectively, because each suspects the other of being unfaithful.
Following the rules of farce, the Featherstones end up being invited to dinner by the Fosters and the Phillipses on consecutive nights. Will Bob and Fiona's dalliance be revealed? In a scene of extraordinary ingenuity, Ayckbourn has both parties unfold in the same theatrical space—despite the fact that they're actually taking place in different households on different days.
The six performers cope brilliantly with the technical demands of the piece. Caroline Langrishe conveys just the right level of ennui as bored wife Fiona, and Robert Daws is hilarious (and surprisingly poignant) as her buffoonish husband. Leon Ockenden captures Bob's swagger and sexual magnetism, and Charlie Brooks is suitably angry and flustered as his put-upon wife.
Best of all, however, are Matthew Cottle and Sara Crowe, who form a killer double-act as the Featherstones. Cottle is terrific in the role of uptight husband and Crowe is equally impressive as his neurotic wife. Their acting during the dinner party scene, where they need to rapidly switch between time-frames, is a joy to behold.
Director Alan Strachan wrings every last laugh from Ayckbourn's script. After a slightly ponderous start, the production builds momentum and becomes utterly absorbing. Julie Godfrey's set design is pleasingly detailed and conveys the sense of two distinct 1960s households.
I've been slightly lukewarm about other Ayckbourn productions I've seen in this past, but this is not the case with How the Other Half Loves. Once the play gets going with the arrival of the Featherstones, the production is enormously entertaining.
Reviewer: James Ballands