How the Other Half Loves
Alan Ayckbourn
Bill Kenwright
Yvonne Arnaud Theatre, Guildford
–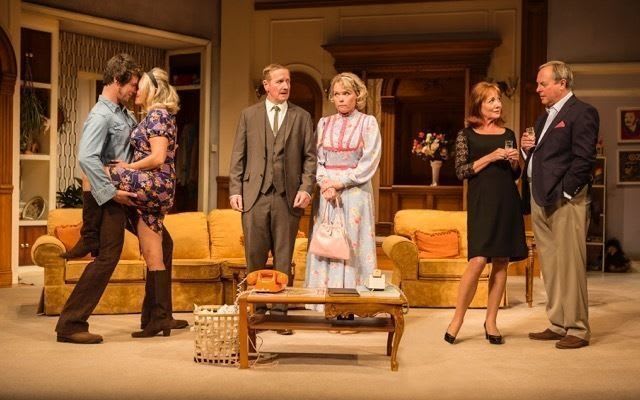 Sitting in a council flat in Leeds would not seem conducive to literary inspiration, but it was there in the late 1960s that a young Ayckbourn was "aiming to write a play highlighting different and contrasting social lifestyles" and How the Other Half Loves was the result.
The class system was still alive and well in the 'sixties (that is if you weren't one of the 'swingers') and it's well illustrated here with the three couples involved: upper class Fosters, smart and elegant; middle class Phillips, young and trendy; working class Featherstones, old fashioned and aware of their place.
They might not all be swinging, but there is a clandestine affair going on which links their stories together and, making things even more complicated, and in an exploration of time and space, the action covers two consecutive days but all takes place on stage at the same time. What a nightmare for timing and staging, but what a joy to watch as the comedy unfolds and the quick switching between two households, all in the same setting, keeps the audience intrigued and fascinated, as well as laughing.
Ayckbourn's observational powers were in full focus even then, together with his conversational style of writing, and these people are all ones we know well. Frank Foster is a businessman trying to still keep fit while wife Fiona runs the household with elegant precision. Bob and Teresa Phillips have a volatile, chaotic relationship, while William and Mary Featherstone (Matthew Cottle and Sara Crowe) are considered to be so boring that no one would ever think of questioning their moves so they are brought in as a useful alibi for the straying couple.
The comedy really comes to a head with two dinner parties taking place on two successive days and in two different houses, but all taking place at the same time and in the same set. We are left with a "how are they going to explain that" situation especially when, in the chaotic household, a bowl of soup is thrown over William just before switching back to the Fosters' house. "You're all wet" says Frank, surprised—and there they leave us for the interval.
The excellent Alan Strachan directs, controlling and "conducting" the play like a symphony of movement and some very skilful and talented actors cope with the complicated choreography. The often high speed action has the performers frequently rushing across the stage brushing past each other but having to be totally oblivious to the other's presence, and the fact that they manage this perfectly, and without tripping over the furniture, is a tribute to everyone involved. The whole production runs like well-oiled clockwork.
Julie Godfrey's set provides a comfortable living room very cleverly arranged to encompass both households with furniture and costumes to match the respective lifestyles, and all performances are superb, but there are two moments which stand out in my mind. Caroline Langrishe's Fiona, being the perfect hostess, trying to make conversation with the non-responsive Featherstones—haven't we all been there! Also Robert Daws as Frank attempting to give a bewildered William marital advice.
Leon Ockenden and Charlie Brooks, as Bob and Teresa, have the most physical comedy, and Cottle and Crowe the trickiest during the dinner party having to constantly (in perfect unison) swivel from one household to another.
Perfectly presented and very, very funny—a production well worth catching—if you can get a ticket.
Reviewer: Sheila Connor