How to Hide a Lion
Based on the book by Helen Stephens
Polka Theatre
Polka Theatre
–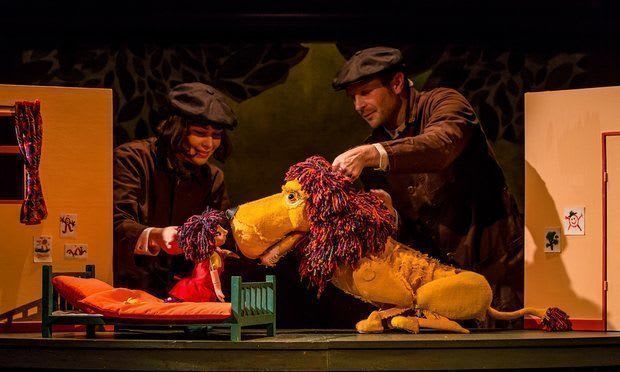 Adapted by director Peter Glanville from Helen Stephens's picture book this is a 40-minute entertainment aimed at the 3- to 6-year-old (though there is another version for the 1- to 2-year-old toddlers too).
It tells how a lion comes into the centre of Middletown, a quite place where nothing ever happens, or so the mayor says and his citizens sing their agreement. The lion scares these good people and they chase him away.
A little girl called Iris finds him trying to hide with a sore paw and his head and his foreparts wedged into her Wendy House. She helps him and takes him home to hide. But where can a lion hide?
She tells him to stay in her bedroom while she goes down for her dinner: but he doesn't. He goes in the bathroom and tips up the bath, turns on the shower and when Iris's mother sees him he scarpers back into town, leaping over roofs, running through the town square and squatting up on a building between two carved lions where perhaps no-one will notice him.
It is from there he observes something happening which shouldn't and puts a stop to it, earning the townsfolk's eternal gratitude and winning him the hat that he first came into town to get.
The production picks up on the hat theme and set designer Laura McEwen has turned Polka's Adventure Theatre into a hat shop where on arrival some of the audience get their heads measured to make sure the staff get their sizes right. There are hats around everywhere and the shop counter can usefully be turned into a puppet stage.
The hat shop assistants declare everyone has to have a hat and every hat has a story and they start with the hat that belonged to a lady explorer who used to travel with her mouse (See! There are mouse droppings still on it) and that of soldier that could keep him safe in a battle by making him invisible. Then there in the middle is the hat that was a lion's hat—and so to his story.
This is where the lights change and shop assistants (Clare Rebekah Pointing and Philip Yarrow) turn puppeteers. Lion, and he is a really big Big Cat, leaps up onto the counter and they give us a song about this "very cool cat" and he dances. The Lion and all the puppets in this show are designed by Samuel Wyer.
Lively songs with a jazz lilt are strung through the story, all written by composer Barb Jungr. They are delightful, grow out of situation and are sung beautifully.
Having met the Lion and a little inchworm who dances all over him, the place turns into Middletown: the Town Hall over there with a gold candlestick on the top of its frontage, the municipality's proud treasure, the hat shop itself over here a row of shops on the street behind them. Later, even more places are discovered with windows that light up at night time, but for now it is morning and the citizens are greeting each other: the street sweeper, the butcher, the backer and the semi-professional lady opera singer.
When Lion comes along to scare them, he's a small puppet to match their size but, when he reappears in Iris's garden (another rapid set change), he is almost as big again to match the size of Iris who appears on the same wall he leaped over, reciting her ABC. She's got hair just like his mane—no wonder they get on together so quickly.
With new scenes appearing as quickly as turning a book page, changes of scale so that sometimes see you looking down as though you're in Lilliput then are suddenly close because much bigger, or a character coming out into the audience and music adding momentum, this a show that feels invigoratingly fresh. The puppeteers act out everything themselves and that magically transfers to the puppets as they carry out their complex multi-tasking (and there is a lot of it) with seemingly effortless smoothness.
When we reach the celebratory finale with fireworks in a starry sky (thanks to Will Evans's lighting) with bunting running out overhead and a glitter ball adding sparkle, everyone has had a good time and the cast and crew have truly earned the enthusiastic reception they get from their audience.
There is a moral here too if you want one: don't reject the outside who is different, but the target audience will be far too caught up in the story and enjoying a little girl not doing quite what she is supposed to do.
Reviewer: Howard Loxton