How to Succeed in Business Without Really Trying
Music and lyrics by Frank Loesser, book by Abe Burrows, Jack Weinstock and Willie Gilbert
Nick Thompson Productions and Tarquin Productions in association with the King's Head Theatre
Wilton's Music Hall
–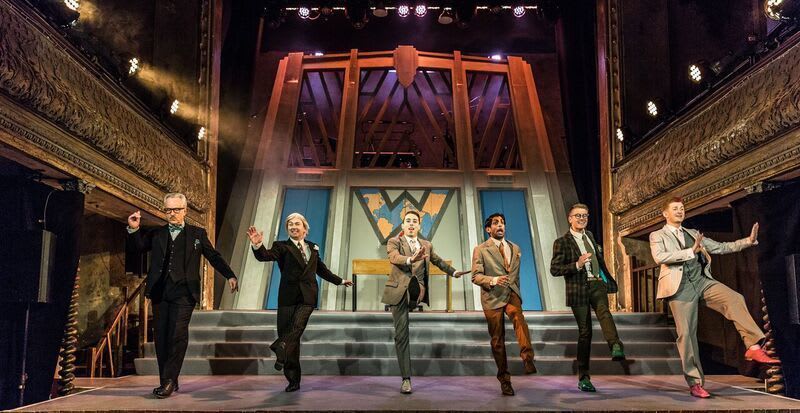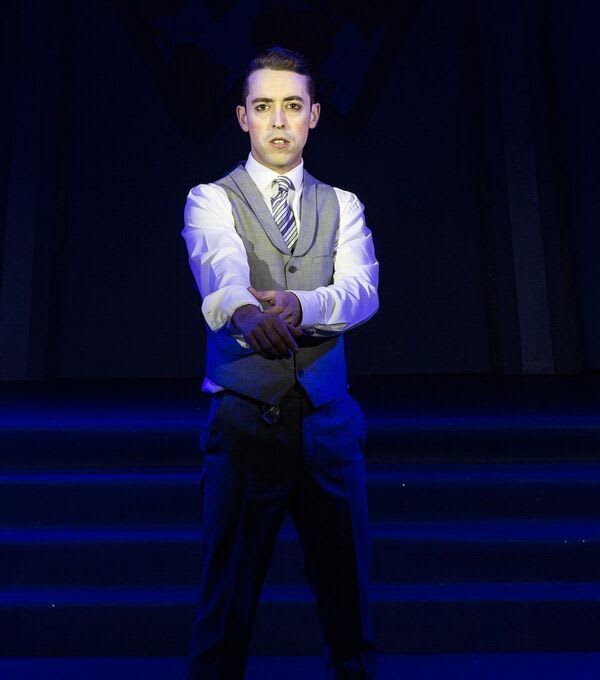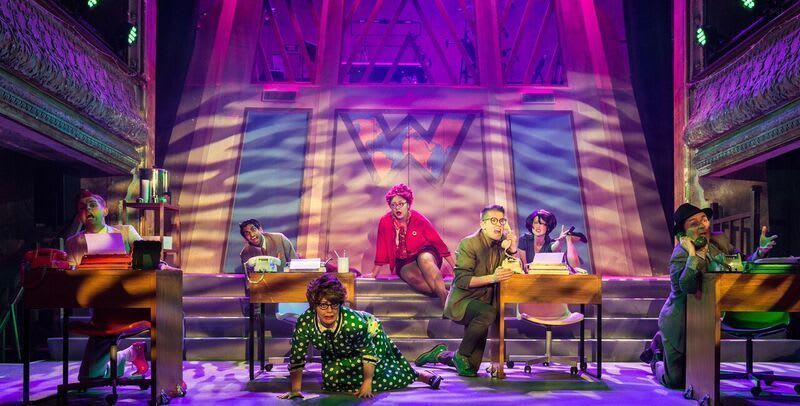 Window-cleaner J Pierrepont Finch has sold his soul in a pact with his Mephistophelian mentor, the author of How to Succeed in Business Without Really Trying. Having blagged his way into a job in the mail-room of the World Wide Wicket Company, by dint of sycophancy, confidence trickery and an innocent face, Finch finds himself vaulting vertiginously into the junior executive's office, making an enemy along the way of company boss J B Biggley's ambitious nephew, Bud Frump.
Finch's romantic life is on the up, too. He's caught the eye of doe-eyed secretary Rosemary Pilkington, who thinks he needs mothering, and hits it off with Biggley's protégé, the bold, buxom and brainless Hedy La Rue. His ambition insatiate, Finch is determined to outmanoeuvre his colleagues and climb to the very top. Luck seems on his side, but corporate life is littered with both ladders and snakes…
Based on the eponymous best-selling satirical novel penned by Shepherd Mead in 1952, Frank Loesser and Abe Burrows's 1961 musical adaptation was a smash hit for four years, gathering a Pulitzer Prize and eight Tony Awards along the way. Its cheerful depiction of corporate amorality and sexism feel somewhat dated in 2017, though. After all, we've had the cut-throat capitalism of Gordon Gekko's 1980s and more recently watched banking fat-cats feast on government bail-outs.
The dial-line telephones and filing cabinets of WWW's glass-and-steel Manhattan headquarters are as much a throwback to a past age as are the politically incorrect lyrics. Watching director Benji Sperring's lively revival at Wilton's Music Hall, I found myself wondering if an Internet-age update would have sharpened the satire: those triple Ws look ripe for parody.
But, that would miss the point: this is a show designed to offer pretty girls, slick dance routines and a happy ending, not to expose the coarseness of corporate life. And, in any case, plus ça change. We all know the squeaky-clean Mr Vacuity who's somehow found himself in the vice-president's leather chair or witnessed the blind ambition of the office backstabber. And, when the coffee machine malfunctions, workplaces still grind to a halt.
The book by Abe Burrows, Jack Weinstock and Willie Gilbert spills forth good old American optimism. Sperring and his set and costume designer Mike Lees temper the buoyancy with a healthy dose of English irony. The art deco set with its soaring vertical lines suggests a driving determination which is subtly undercut by the wobbly elevator doors. And, though the stage space is quite drastically foreshortened by the design, the steep steps allow us to appreciate the elevated egos and fortunately don't prove a death-trap during the dance routines.
Nic Farman's lighting design is extraordinarily detailed. And it very effectively illuminates Finch's double-dealing deceit, flashing a spotlight on his scheming—the spot slips deliciously sideways when things go awry—and sending us into a world of gleaming surreal blue when the voice of his guru rings loud and true.
The show is camp and kitsch, the costumes colourful and eye-catchingly detailed. Who'd have thought that a cast's footwear could take centre-stage? Finch's suits may get darker the higher he climbs, but his loafers retain their silver sparkle.
One could argue that Loesser himself might have tried a bit harder in the melody department. The score is not exactly teeming with ear-worms though the numbers are brisk and push the story along, and they are sassily choreographed by Lucie Pankhurst. "A Secretary is not a Toy", in which the office lecher delivers a hypocritical homily to his fellow workers, almost matches G&S for self-parody and Mr Twimble's paean to the "bold caution" that has kept him in a job for twenty-five years, "The Company Way", tells of a self-preserving redundancy that is all too familiar.
Occasionally the direction runs aground, as when Finch and Rosemary get stuck interminably behind a desk at the end of the first half, but the part two longueurs are not all Sperring's fault, and when things are flagging, along comes the rousing "The Brotherhood of Man", which serves as a propulsive pick-up and showcases Maisey Bawden's bee-bop bravura.
Marc Pickering has the difficult task of capturing the duality of Finch, whose boy-next-door exterior masks a genius for epic opportunism. He must breeze through the business, twisting his scalpel with scarcely a scruple, while remaining sympathetic. Pickering can communicate whole worlds with a raising of the eyebrows or a wry shrug, but the production endows Finch with a Machiavellian unscrupulousness which does not endear him to us.
When the spotlight captures the ghastliness of Finch's Brylcreem slickness and dark-kholed eyes, "I Believe in You"—sung in the basement washroom—becomes a display of scarily grotesque self-belief. But, Pickering works hard at Finch's dodgy deceptions—cunningly convincing his hen-pecked boss that he's been in the office all night and that he shares Biggley's passion for knitting—and Pickering's neat comic timing and boyish glee eventually win the day.
As the guileless, gullible Rosemary, Hannah Grover does her best to make something of a flimsy role which is definitely of its era: she sings "Happy to Keep his Dinner Warm" with the requisite saccharine sweetness. Lizzii Hills is terrific as the pneumatic Hedy La Rue and her duet with Andrew Wadsworth's J B Biggley, "Love from a Heart of Gold", is one of the evening's warmest moments.
Geri Allen as Smitty, the company secretary who's keeping the business going, matches Hills for zest, and Daniel Graham is wonderfully petulant and pompous as the arch but inept Bud Frump. The fanciest footwork comes from Matthew Whitby (Mr Bratt), his luminous pink shoes perfectly matching his buoyant rosy quiff. Throughout, the cartoon-caricatures are humanised by small but telling details.
The nine-piece band is placed aloft; while the players double-up impressively, the wind-based big-band style accompaniment can feel a bit thin, especially if you like the lush string orchestrations of the original sound. The singers are amplified effectively, but in the spoken dialogue the reverberating acoustic at Wilton's creates too much echo; a bit of modification would be helpful.
Loesser might be accused of having followed his own self-help guide: "How to produce a workaday musical without really trying". But, the cast at Wilton's try extraordinarily hard, and with real success, to give some sheen and zip to Loesser's paper-thin conception. The stylisation is crisp, the delivery committed and vigorous. They clearly enjoyed themselves and, judging by the warm applause, so did the Wilton Music Hall audience.
Reviewer: Claire Seymour