Howard Read: Hide and Speak

Gilded Balloon Teviot
–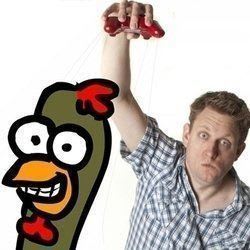 Hide and Speak is the adult version of animator and stand-up comedian Howard Read's technologically brilliant comedy act, the counterpart to the kids' show Little Howard's Big Show at Underbelly.
Now that Little Howard is a star of Children's BBC, the more adult material has been removed from LH's act and so this new show, which includes a guest spot from the 6-year-old animated comedian, has been created as a purely adult act.
While there are a few pre-recorded animations used as linking pieces, the bulk of the show utilises Read's new development of using a games controller to animate characters live—he jokes that this makes his video games hardware tax deductable—which means that he can create characters that improvise live and even interact with the audience.
It's very impressive to watch and works very well. He doesn't just animate the mouths in time with the voices he is creating, but there are facial moves, arm movements and even a few much bigger changes that happen if the right thing is said.
So we get a stand-up routine from a chicken, some racist material from Roger the Pigeon, a great piece about a tech problem that seems to make Little Howard swear and a post box doing a stand-up spot. There's even a bit of audience participation, as some lucky spectators are given the opportunity to shoot at leading politicians.
As clever as it all is, it is still very much a work-in-progress. The technology works most of the time, and when it doesn't it can be as entertaining as when it does, but some of the material is a little crude, in both senses of the word. The best section is the one with Little Howard, but perhaps this is to be expected as the character has been developed the most.
To be fair to Read, we were a poor audience. By no means full on the performance I saw, attempts to engage the audience in conversation were met with indifference bordering on hostility from some quarters. I can imagine this being a much better show with a more reponsive audience.
Even so, Read's unique style of performance is fascinating to watch and it will be very interesting to see how the material develops to match the amazing technology.
Reviewer: David Chadderton