Huck
James Graham from the novel by Mark Twain
Fresh Glory Productions in association with Shapeshifter and The Theatre Chipping Norton
Southwark Playhouse
(2010)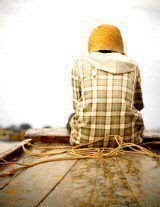 With decking and a sizeable raft (including wig wam), musicians in a shelter and the ability for characters to pop up from everywhere the stage is set for the adventures of Huckleberry Finn. Running away from his rogue of a father, Huck accidentally meets up with a run-away slave called Jim and the two sail down the river encountering all manner of people and learning new things.
With a loose narrative structure including Huck talking directly to the audience, re-enacting memories and occasionally talking to the other actors as actors there is scope for some bursts of great character acting and humour. The feud song is well executed and the speech of 'David Garrick, the younger' is comedy gold for any lover of Shakespeare. Tom Sawyer is vividly created in Huck's memory and through the use of live music the atmosphere of the American frontier is well achieved.
However, some of the performances in this production are just too large for the space and the boundless energy of the cast strangely does not equal a snappy pace overall. The enthusiasm is relentless and verging on the wearing at times as Huck throws himself on and off of the featured raft and indulges in snapshots of his tall tales. Whilst there is much to enjoy, a shorter, more condensed adaptation of the book may have suited this clearly talented company better.
Reviewer: Amy Yorston