Huis Clos
Jean-Paul Sartre
Second Skin Theatre
White Rabbit Theatre
–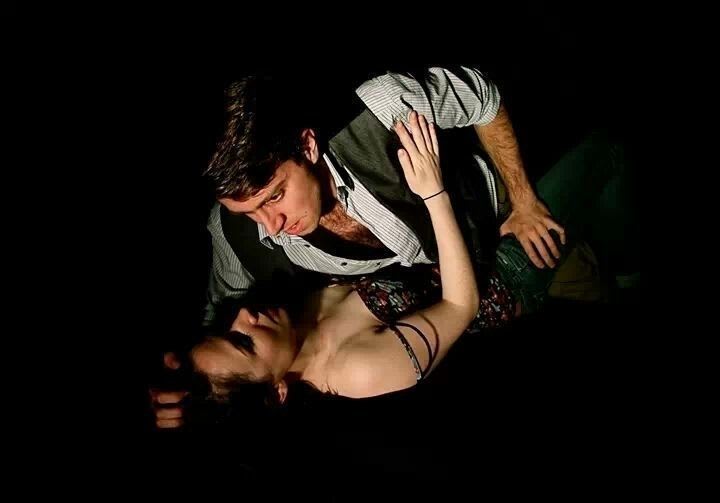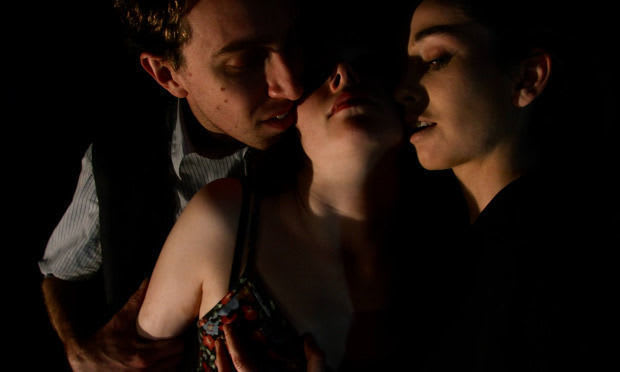 French existentialist Jean-Paul Sartre's 1944 play Huis Clos (often known as In Camera or as No Exit for English language productions) is the source of his description of Hell as being "other people" and indeed that is what the play shows us.
Andy McQuade's intense production, using Frank Hauser's translation, presents the audience with an empty room. Designer Helena Trebar has swagged its black walls with corded drapes; there is a fireplace but no doors and windows. The only furniture consists of a two-seater sofa and two other chairs. Ignore the fire exit which doesn't exist in this stage world.
The only way in, it is soon revealed, is through a trap door in the floor and it is through this that a morning-coated young man appears, elegantly coiffed and with over-knowing eyes who checks the place over before presenting the room it its first tenant Joseph Garcin.
Garcin (George Collie) is dead. He believes this must be Hell and thinks the waiter/valet (Sam Watson) must be there to torture not to serve him. He is ready for the flails and flames; this is not what he expected. Where are the implements of torture? Where indeed is his toothbrush or any of the routine necessities of daily life? The "waiter" gets the same questions from every new arrival.
There is no food, no drink, no bed, for there is no sleep. There are no mirrors to see oneself. The "waiter" shows him a paper knife but there are no books to separate its pages with. Nor is there a switch to turn off the light.
Soon another arrival is shown up through the trapdoor: a young woman. This is Inès Serrano (Charly Flyte), a trousered, booted lesbian with a sharp tongue. With the entrance of smartly-dressed Estelle Rigault (Eloise Black), played here with a superior manner that seems to hide a rather middle-class accent, the room has all its allotted residents.
Gradually they reveal themselves and why they are there. Pacifist journalist Garcin has twelve bullet-holes in his chest. He tried to flee his country when it was at war and faced a firing squad for cowardice. Inès set up a ménage with a cousin's wife she fancied. After the cousin got run over the wife gassed both herself and Inès.
Estelle claims she died of pneumonia. She had married a rich man for his money, took a lover and then drowned a child she had by him, driving him to suicide. Inès is attracted to Estelle; Estelle wants sex with Garcin; Garcin wants to be trusted. Inès admits that she needs others to suffer to exist she is perfectly happy to be their torturer.
Although the occupants cannot turn off the lights, McQuade and his lighting designer Luca concentrate on aspects of the action and highlight dialogue when characters imagine what is happening in the living world they have left or look back on incidents, bringing the speaker forward into a spotlight. It helps the audience but not the characters.
Garcin declares that they should all keep silent and try to ignore each other: but of course they can't. In escalating confrontations with Garcin and Estelle having wild sex under Inès's scornful gaze and continual goading and Estelle haranguing Garcin for his cowardice, things are clearly going nowhere. They are trapped.
Even when they find that the door can suddenly be opened, none of them will risk what might be waiting. Garcin makes his much quoted pronouncement, but Estelle finds the knife. It is useless: they can't kill their tormentor or themselves, they are dead already.
There is strong playing from all three actors and for those who have no knowledge of the play it may come over powerfully but, with a classic story well-known for more than half a century, it is difficult to recreate the kind of impact it once had. This production sometimes loses its grip on the attention—but not in its final moments when cackles of laughter subside into a terrible silence.
It doesn't matter that you know that, for it seems an inevitable conclusion and its playing makes this whole production work.
Reviewer: Howard Loxton