Hull and High Water
Janet Plater
Hull Truck Theatre Company
Hull Truck Theatre
–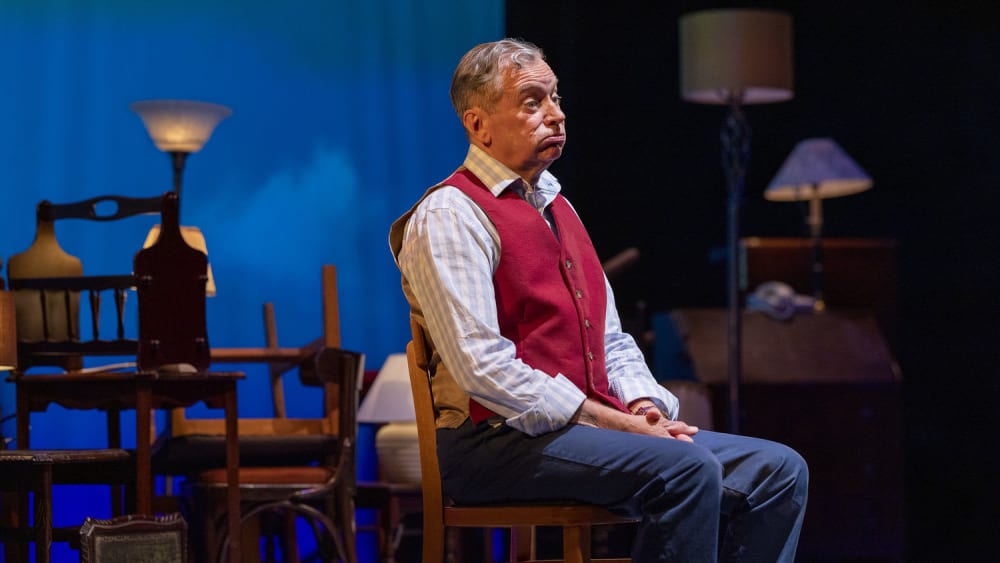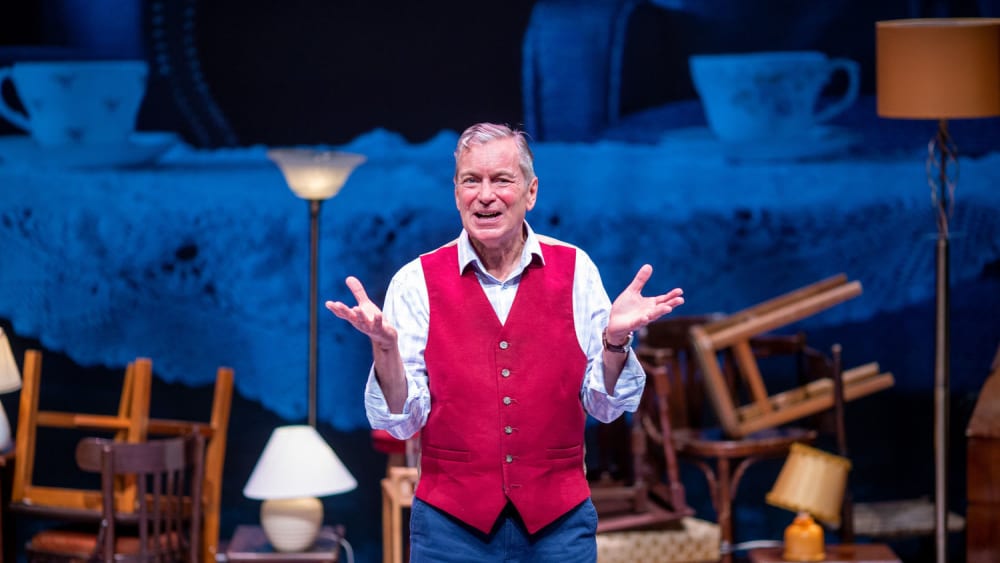 Hull and High Water, by Janet Plater, is the third and final one-person show in Hull Truck's "Homecoming" Season. For my money, it's the pick of the bunch.
I must admit to growing a little weary of titles which employ the word-play of Hull and Hell. To Hull and Back, A Hull of a City, Hull Raisers... the list goes on. So I hope you'll indulge me a bit of a moan as the title is about the only thing I didn't like about this piece.
An elderly but dapper man, Frank (John Middleton), bounds energetically on to stage to tell us that this is the worst hotel he's ever stayed in. He'll have his lunch when he wants not when it's convenient for the staff! He tells us a joke, then another one—but falters as he forgets the punchline. What emerges in Janet Plater's touching and subtle script is that Frank's hotel is a care home and he is a man struggling with dementia. A moment of carelessness by a staff member allows Frank to make a bolt for the outside world and so revisit parts of Hull that stimulate his shattered memories.
Frank, we learn, was a player for Hull KR during the golden era when Hull FC and Hull KR met at the Rugby League Challenge Cup Final in 1980. His memories seem happy, comforting and romantic as he recalls life with his wife and two children. However, it emerges that his mental decline has been, in part, triggered by his wife's infidelity and the breaking up of the marital home.
The strength of Plater's script is that it allows the character to 'live through' the reminiscences rather than just recall them; thus the lack of action which characterises many one-person shows is avoided. In this, she is helped enormously by Tom Saunders's taut and imaginative direction as he moves Frank from place to place and fractured memory to fractured memory, until eventually he's 'caught' and returned to the home.
Oliver Brown's stylish design provides a backdrop of jumbled furniture, a stack of confused and antique memories almost fighting with each other for prominence. The use of a screen to project images of the city only for them to distort, dissolve and disintegrate makes for an appropriately disturbing environment augmented perfectly by a sensitive use of sound by Matt Clowes.
Hull and High Water is not an easy watch but there is something heroic in Frank's embracing of the city in turning to places for reassurance and comfort in his anguish. Plater's love for her home city is clear, but her skill in structuring a bitter memoir that avoids sinking into melodrama or sentimentality is a credit to her. I would have, perhaps, liked to have seen more of Frank the rugby player and teacher as well as his heartbreak at his domestic tragedy. The play is currently running at an economic 50 minutes and is good enough to expand into these moments if Plater so chooses.
Finally, we come to the central performance by John Middleton. He is best known for his role of Ashley in Emmerdale and was rightly lauded for his extraordinary portrayal of the character's death through vascular dementia some four years ago. It is a tribute to his skill that Frank, for all his personal tragedy, is often a lively, positive and energetic presence throughout the show. Middleton's emotional range is remarkable, yet he is an economical and measured actor whose and his ability to shift moods within a moment is electrifyingly accurate. In a production of considerable quality, his performance is the outstanding feature.
Reviewer: Richard Vergette