Hundreds and Thousands
Lou Ramsden
Buckle for Dust in association with English Touring Theatre
Soho Theatre Upstairs
(2011)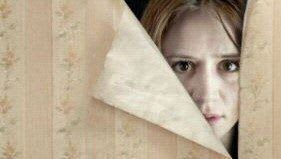 Hundreds and Thousands are those tiny, multi-coloured sugar balls scattered on cakes as decoration. Lorna likes them on her ice-cream and now she's found her very own ice-cream man, and just in time. She is entering middle age and so wants to gain her dream of a husband and a baby. Boyfriends are something she has missed out on, until her younger brother came up with the idea of a trying speed-dating. That's where she met Allan and now, with her parents dead and the house where she lived with them newly sold, she is going to move in with him.
Brother Jonathan, who is helping her unpack her things, including her doll collection, doesn't think it is a good idea. It is too soon and she hardly knows him, but her brother is arguing with a woman who has at last found a lover and sees herself on the way to getting what she has always wanted. However, Lou Ramsden's new play, set in a remote farmhouse, is not about the discovering sexual excitement and the delights of domesticity, it is a dark and unsettling metaphor for the ego-centric emphasis on getting what you want, the me-world of today, that takes ideas and images from both the world of Grimm's fairytales and news stories like those of Austrian Joseph Fritzl and Wolfgang Priklopil.
On her first night in the house she discovers that Tiggy, whom she had heard of but thought was Allan's pet cat, is not a cat at all. She is a retarded woman who lives in his cellar. Allan says his mother took her in when they found her on their doorstep as a little girl. His mother brought her up strictly and they keep her secret to protect her; it is not safe for her to go out or to let others see her. Allan retains his late mother's rules and Tiggy is effectively his house slave, but not, to him, a sexual object.
Some of the plotting may seem implausible (the real-life cases are hardly believable either) but this is not so much a horror story about a real situation as a demonstration of the way our own desires and fears (and perhaps indoctrination) can undermine our sense of right and wrong,. Its gradual revelations, failed challenges to self-interest and dramatic incidents make it a very watchable piece of theatre when performed with as much conviction as in Lisa Spirling's atmospheric production which always keeps itself just one remove from reality.
Sukie Smith gives Lorna a middle-class, middle-aged naivety. Like Tiggy she too has never gone out into the world and though her brother has a family and a failing antique and curio business he seems hardly more able to deal with life. Robert Wilfort makes him desperate to hang onto what he has got.
We learn little about Allan. Stuart Laing does not try to add things not in the script but plays what is written: someone quite ordinary and pleasant seeming. We have no idea why he wants a wife, he seems already sexually experienced. This Prince Charming's hot kises are what Lorna wants. The monstrousness in his behaviour seems just everyday with no added passion - and that is uncomfortably chilling. As Tiggy, hands-tied and hobbling around in chains, Nadine Lewington is like a beaten dog, still trying to please its master, flashes of resentment and later a glimmer of understanding of her situation flicker behind her eyes but this play doesn't just remind us of what people will do to get what they want, but what they will put up with rather than lose what they have got.
Played on a traverse stage, the walls of Polly Sullivan's set painted with the trees to remind us of the dark fairytale forest outside, red lighting for scene changes that gives a horror comic artifice to its Grand Guignol incidents, you do not feel for these people but are kept watching by the disintegration of values. Hundreds and Thousands may present extremes, but is it so far removed from the behaviour of all of us whether in a marriage or partnership, at work or as a member of society, forever justifying behaviour that we knows transgresses moral boundaries?
"Hundreds and Thousands" plays at the Soho Theatre until 16th July 2011
Reviewer: Howard Loxton