Hurling Rubble at the Moon
Avaes Mohammad
Park Theatre and Red Ladder Theatre Company
Park Theatre (200)
–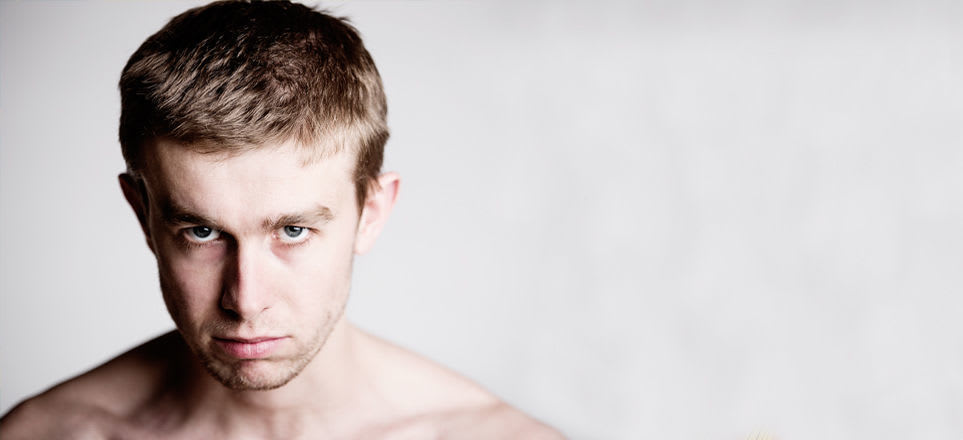 Set in Blackburn in 2001 through to 2005 Hurling Rubble at the Moon centres on Seth "Skef" Walsh who has just been sacked by a firm run by Asians. He's been caught on CCTV pocketing a pair of earphones but, as he knows "Paki" colleagues have got away with petty thieving with a caution, he thinks he is being victimised.
Foul-mouthed Skef (but no more than all his acquaintances) is a bit of a yobo but not a bad kid. Lacking education and any real skills, he still shoots a line, even to girlfriend Mary who knows all about him. Jim English makes him gawkily spontaneous—out of control might be more accurate. With no training or discipline, he is easily carried by the current but that doesn't mean that he can't think for himself when other influences don't override him.
Skef's dad disappeared years ago but now he is back in the neighbourhood: former football hooligan Dean Walsh who's never had a proper job and lives down the pub. On the one hand, Dean may be a belligerent bully but can be equally affable—though his language is racist, he boasts of the time when Bob Marley, playing a small gig in Huddersfield, clapped him on the shoulder calling him "brother"—he's as abusive to his mates as much as to anyone.
Mark Cameron makes Dean a man most wouldn't want to meet on a dark night, or anytime. A big guy, loud-mouthed, tattoo-toting, he's not one to argue with. It is a big, intimidating performance against which all the young people seem set in contrast. They are part of a multiracial society.
Taking up with old girlfriend Mary (whom her mates call "Gerbil"), he finds her best friend is Mehjabin "Major" Sultan from a Pakistani family. He even has dates with her, though he's not so happy that Gerbil is seeing Gerbil's brother Taufeeq.
Dragged into his dad's life down the pub, Skef finds himself joining Dean on marches and beating up Pakis (a slow-mo sequence with flames flaring above them). Skef's soon caught up with the British National Party.
This is doing men's things with dad rather than being political but it gets him deep in with the British National Party.
Here we have young people across ethnic boundaries in a world where a White or a Black or an Asian can be a best friend but sheer numbers make them feel that others are challenging their world, that race or religion may be stop them from getting a fair deal.
The girls, strongly played by Paige Round as Gerbil and Dinita Gohil as Major, seem much more confident in response to the situation but Skef is an interesting portrayal of the dichotomy. Mohammad makes this play hopeful but not before showing how feelings can erupt in violence, in showing which Jez Bond's imaginative production doesn't soften things.
Hurling Rubble at the Sun, the companion play with which this one is programmed in repertoire, gives the response of one of the characters, Taufeeq (Ragevan Vasan), briefly seen here. Together they offer a ground-roots portrayal of one of the biggest problems that faces our current society.
Reviewer: Howard Loxton