The Hurly Burly Show

Garrick Theatre
(2011)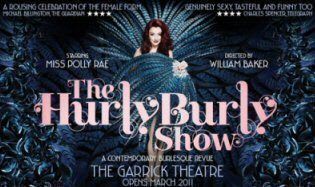 "All will be revealed..." the posters proudly state. And the Hurly Burly Girlys (sic) certainly don't waste any time doing that. Miss Polly Rae's Hurly Burly Show is a contemporary burlesque revue, combining singing, dancing, lots of props and a surprising amount of costume changes for a show where the girls spend most of the time wearing next to nothing.
It's easy to see the appeal in the seven Hurly Burly Girlys. What's brilliant for men and women alike to see is that, although slender and very toned, the girls aren't stick figures; when they shake their bums, there is wobble. These are real, healthy and beautiful women. As we see by the end of the first number.
For all their curves, the first act is a little flat. Although they're fun and cheeky, the group numbers are somewhat lacking in variety and the choreography is a little unimaginative. It isn't until the solo numbers that we see what talented - and bendy - dancers the girls are. In comparison to Kitty Bang Bang's en-pointe fire-breathing number (which ends with her setting her nipple tassels on fire), the rest of the act is bland.
The first act is accompanied by the only male performer, Spencer Day, who croons along to the dancing. His performance is a little nervous and he sometimes looks pained whilst he sings, but it never shows in his rich and smooth voice. He's a good looking man; he should smile more.
Miss Polly Rae herself doesn't enter until the end of the first act, and Act II picks up substantially with her in it. The routines become more varied, moving from a convent to a classroom to a simple but sexy number with exercise balls. The music takes a more contemporary turn, moving from jazz to Britney Spears and a slow version of Michael Jackson's Bad sung down a telephone. Miss Rae oozes charisma and naughtiness from the top of her red head to the tip of her delicately pointed toes. As well as adding some sultry singing of her own, she adds the humour and double entendres that the first act is sparse in.
How you react to this show is very much dependent on gender and sexual orientation. Both men and woman can find something to enjoy in it but, as a woman, I began to get a bit bored with numbers that always ended in nipple caps and a few strategic bits of string. But ignoring the fact that the second act is a little long, the show is sultry, sexy, naughty, rude, crude, glamourous and glitzy. Although there are moments when it's a little too risqué, it never slips into tasteless or seedy. The talent and ingenuity takes it from just another burlesque show to a West End show.
Reviewer: Emma Berge