Hurricane
Written and performed by Richard Dormer
Arts Theatre
(2004)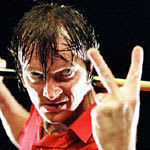 Two times national snooker champion, Alex "Hurricane" Higgins is a working class hero, whom we love to distaiction. Many of these "heroes" have come and gone, men who have lived wild and thumbed their noses at the establishment. His celebrity and its trapping proved too much for Higgins to handle.
This play, performance and production, is a love letter to Higgins. And, although the script is strong, not flawless, it is the production and expecially the preformance that makes this diamond in the rough breathtaking to experience.
As an Edinburgh Fringe success, the production and preformance were more brittle and brutal. The months since seem to have made Mr. Dormer's performance richer and more sympathetic - different but equally valid.
Mr. Dormer's high energy performance only occasionally gives us time to catch up and catch our breath. He has hooked us from the beginning.
We are introduced to the ravaged, rasping Higgins hidden uder a trench coat and shadowed under a fedora, reminiscing "I had everything. Everything." The storm's up with "Look at me back then," one of the simplest and most effective transition lines. We witness the infective force of snooker and its repercussions as the storm hits full force.
"Alex, you're great." he is told. "And I agree. I was the greatest thing to happen to snooker." But snooker with its diabolical consequences of alcohol, drugs, fags and all the other temptations of celebrity, gnaw away at him.
The scenes are punctuated with music, sound effects and suitcases filled with the appropriate trappings. The direction by Rachel O'Riordan is relentless; the music and sound, lighting and set design serve only the production. It is no wonder that Mr. Dormer is drenched and we are exhausted by the end. The only weakness is that the ending gives us too long a look at the wreckage.
Rarely do we get to see productions that have not been sullied by too many hands on them. The voice of the actor/writer is so clear, clean and strong that we are courted by the purities. Thank you Mr. Dormer.
This production was also reviewed by Philip Fisher
"Hurricane" will be running from 15th June to 4th July in the U.S. as part of the "Brits Off Broadway" series hosted by 59E59 Theatres.
Reviewer: Catherine Lamm