Husbands & Sons
D H Lawrence, adapted by Ben Power
Royal Exchange Theatre and National Theatre
Royal Exchange Theatre, Manchester
–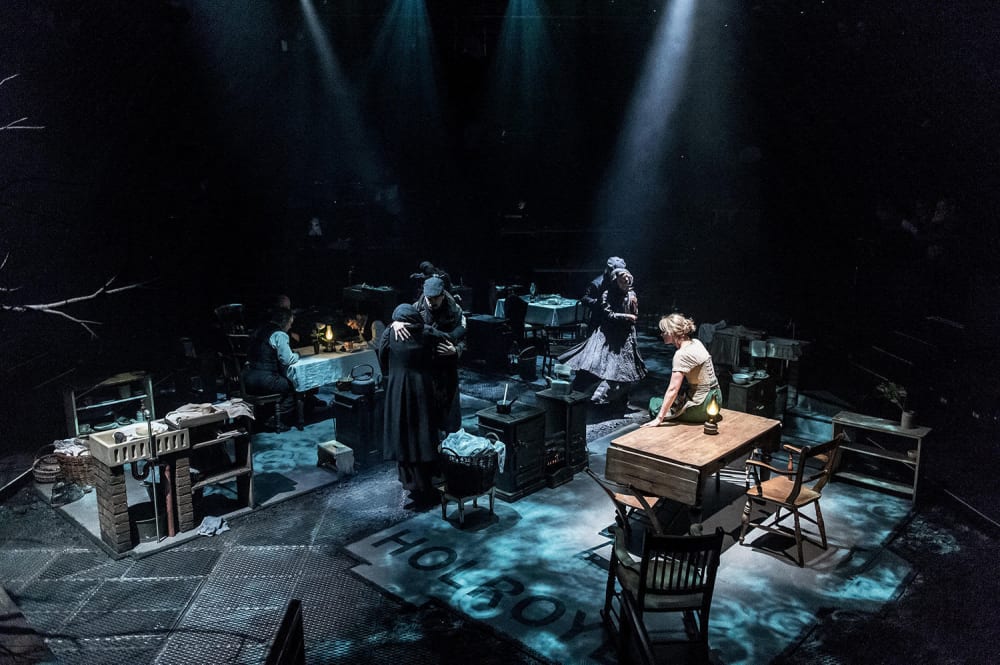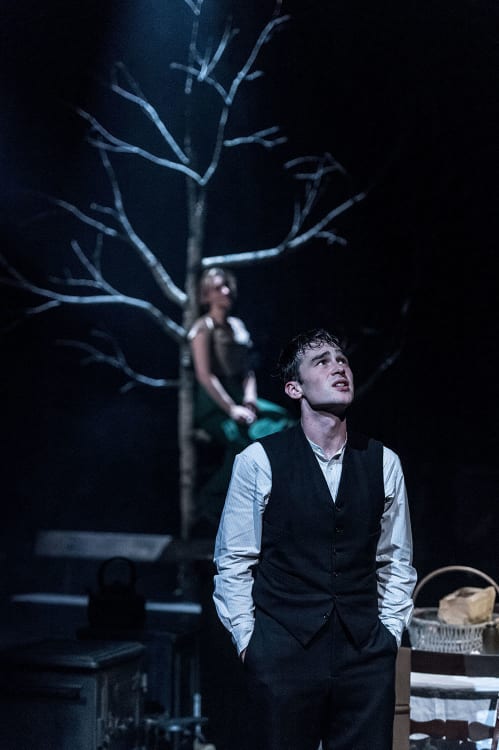 If you aren't familiar with D H Lawrence as a playwright, this National Theatre / Royal Exchange co-production presents a huge chunk of Lawrence in a single long evening, all in the same Nottinghamshire pit village.
Lawrence is remembered mainly for his novels, but his plays, which were never produced during his short lifetime and aren't often staged now, are powerful examples of early twentieth century social realism that are more deserving of revival than many more famous plays of the period.
Adapter Ben Power has cleverly merged together The Daughter-in-Law, A Collier's Friday Night and The Widowing of Mrs Holroyd into a single piece that, in Marianne Elliott's staging, plays out the stories of the three families simultaneously on a set by Bunny Christie that shows the interiors of the three houses as though they are all close neighbours, overhearing one another's rows through the walls.
In the Gascoigne home, newlyweds Joe and Minnie are struggling to get along as he wants to just work as he has always worked down the pit whereas she, who used to work in service and has some money put by, has higher ambitions.
At the Lambert house, father Walter believes he gets no respect from his wife and children, whereas his wife Lydia fears she is losing the love of her college student son Ernest to a girl. Finally, Lizzie Holroyd is sick of her husband Charles's drunkenness and womanising, but electrician Blackmore is taking quite an interest in her and her young son. While there are a few crossover moments, the different stories come crashing together towards the end when there is an accident at the pit that affects all three families.
While it makes for a long night, the three plays actually work very well indeed in this format. Occasionally, some of the actors look as though they are passing time until their next lines—all three houses are in full view and in full light for almost all of the play—but it does bring out interesting parallels in the three plays.
The most powerful of these is when a scene is being played out in one house but in the other two there is a woman, a wife, alone and lonely. This is a strong theme throughout, of wives holding their families together through hardship and tedium without thanks or a great deal of help from their husbands or children.
Such strong and beautifully written female characters demand strong performances, and they get them in a cast that is pretty faultless all round. The wives are Anne-Marie Duff as Lizzie Holroyd, Julia Ford as Lydia Lambert and Louise Brealey as Minnie Gascoigne, the latter getting great support from Susan Smith as her interfering mother-in-law.
There are also some notable performances from Joe Armstrong as Luther Gascoigne, Lloyd Hutchinson as Walter Lambert, Philip McGinley as Blackmore and Martin Marquez as Charles Holroyd.
As a documents of a recent but now lost era and as powerful and entertaining family dramas, these plays are worth reviving. This production maintains the integrity of all three plays and turns them into a single, impressive piece of theatre that is well worth seeing.
Reviewer: David Chadderton