Hutch
Book by Joe Evans adapted from the biography Hutch by Charlotte Breese
Ruby in the Dust
Riverside Studios
–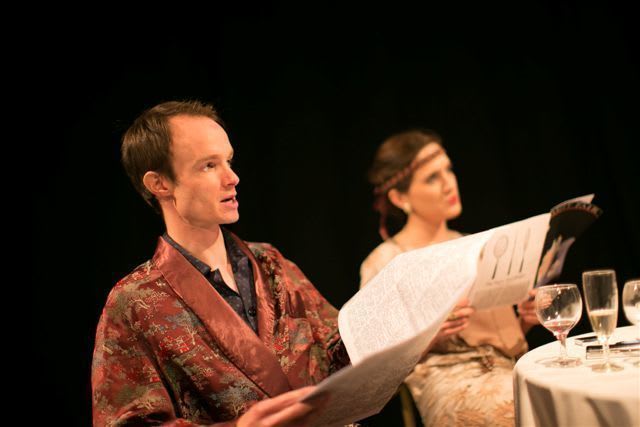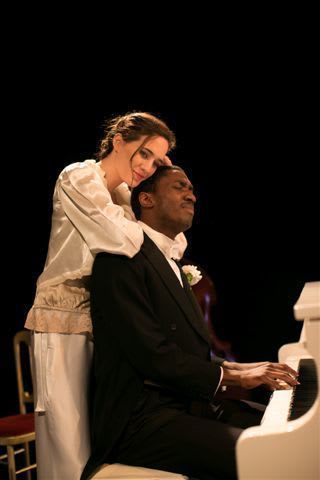 Leslie Hutchinson—"Hutch"—was a top-line pianist and singer who achieved enormous popularity in the thirties and forties until he fell out of favour in the age of the Beatles.
Born n Grenada, he moved as a teenager to New York (initially to study medicine) before entering show business in Harlem and then, fleeing the restrictions placed by American racism, carving a career in Paris and then Britain. This new musical is a dramatised biography based on the books by Charlotte Breese.
It would be easy to describe it as a "juke-box" musical for it has almost no original music. Its plot could be written on the back of an envelope and the script might fit on both sides but though it deals only with a few key moments in his life these are the heart of his story, and rather than structure the story around the songs they have been carefully selected to contribute to the story and express its emotions.
The songs are drawn from Hutch's repertoire of Kern, Ellington, Gershwin and others but especially Cole Porter, plus one by Joe Evans himself: "The blacker the berry the sweeter the juice" which purports to be one from a set of "secret" Porter songs which he gave Hutch.
Joe Evans's book concentrates on the relationship with Cole Porter, Hutch's lover and mentor from the time that Porter saw him in Paris, and that with Edwina Mountbatten which erupted into a scandal that interrupted his career when West End society became aware of the affair between someone who was part of royal circles and a black singer. Under pressure from Buckingham Palace, Lady Mountbatten was forced to see the newspaper that pointed a finger at her.
Linnie Reedman's production opens each half with a gaggle of bobbed and Marcel-waved chorus girls in silk underwear tip-tapping and Charleston stomping to set the mood of decadent society high life, the first act centred on Zelli's Club in Paris, the second on London's café de Paris.
Designer Chris Hone provides a night club style setting with a central dais decorated in Egyptian style art deco (Carter had discovered the tomb of Tutankhamen only a few years before) and the piano and a chaise longue become the focus for scenes in the Porter's Paris apartment and the Mountbatten's London home with no time wasted in scenic rearrangement, making this a smooth running, rapidly moving show.
Six-foot-four Sheldon Green, making his professional debut as Hutch—he is still in his final year at Rose Bruford College—has looks and charm but, despite a brief titillatory scene when Edwina strips him to the waist, he needs a little more of Cole Porter's coaching to suggest the musical talent and sexual magnetism of the man who promoters referred to as "the sexy sepia singer".
Already he movingly suggests the entertainer's personal anguish and it is a performance that is on the way and may develop through the run.
Imogen Daines and Andrew Mathys play the bi-sexual Mountbattens. She, despite the upper class arrogance that assumes she can get away with whatever she likes, suggesting that Hutch may be just a bit more than the "black notch to add to your bedpost" that he suspects, Mathys hinting at vulnerability that may come from knowing his own sexual inadequacies, for their open marriage does seem particularly to his wife's advantage.
Janna Yngwe as Jessie Matthews gets one number but little chance to develop a character and Patrick Lannigan makes a suitably oily Joe Zelli, prepared to pander for any perversion. He pairs it with a double as the pompous barrister representing Edwina when she sues for libel. In court she swears on other "she had never… met the man referred to." Able to do it by assuming that, as perhaps some readers did, that the accusation sought to link her with Paul Robeson, then having a big success in Britain.
Perhaps it is because so many of the songs are his, expressing his life and loves, that it is Sid Phoenix's Cole Porter that seems the most complete characterisation of the evening. Despite the long rope of pearls and the silk dressing gown he flaunts, this is a man who knows himself and others, and with Nell Mooney as his all-knowing wife Linda, a much happier pairing in real life than the Mountbatten's that is subtly suggested by fine acting.
This Hutch presents only a glimpse into Leslie Hutchinson's story, which ended almost in penury, but it celebrates his talent and gives a glimpse into a world of privilege and prejudice from which we are still not entirely free.
Reviewer: Howard Loxton