Hymn to Love
Steve Trafford
Theatre by the Lake and York Theatre Royal in association with Ensemble
Jermyn Street Theatre
–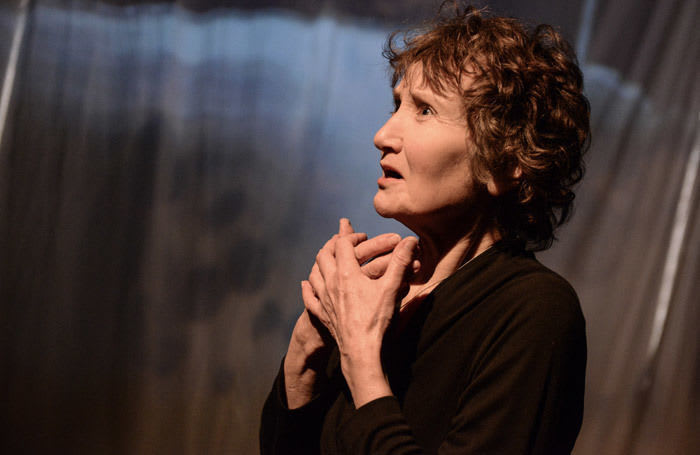 This homage to the French singer Edith Piaf, devised by Annie Castledine, Steve Trafford and Elizabeth Mansfield, was staged first at the Drill Hall and at the Traverse in Edinburgh in 1998. Here it gets a welcome revival, directed by Damian Cruden, that was first seen at the Theatre by the Lake earlier this year.
Elizabeth Mansfield is once again Piaf. This isn't an impersonation but a performance. There is no phoney accent, no imitative clutching of those claw-like fingers, though she dons that characteristic black dress, but using her own voice she presents something half-history, half-recital that presents a life though fifteen songs.
The conceit, announced by projected text which will be subsequently followed by occasional film clips from real life, is that the singer is in her room in the Manhattan Hotel rehearsing for her final New York concert in Carnegie Hall with her pianist (played by actor and musician Patrick Bridgman) who does not speak but who becomes part of a dialogue. It is the same room she had in 1949 when she telephoned her lover, world boxing champion Marcel Cerdan, to ask him to fly to join her; the same room where, eight hours after last speaking to him, she heard that the plane had crashed and he was dead.
There is a phone that rings, though it doesn't sound quite like a real one. Some calls are genuine (her manager checking up on her), sometimes they seem a ghostly reminder to sparks memories she shares with her pianist, memories that introduce the songs which (all but one) are sung in English, though retaining the occasional French word not needing translation—like l'amour.
"I'm a stranger in town," she sings in Steve Trafford's translation of "La Ville Inconnue". Elizabeth Mansfield doesn't have the grittiness of Piaf but she brings the same feeling. Her pain is, how to put it, more English, the language as well as the voice make a difference. "Stay with me," she asks the accompanist, struggling for composure, remembering her fear on the big dipper with Cerdan.
Occasionally, memories are backed up by brief film clips of performance and of newsreel and still photos. They add variety to a presentation that risks getting static but are not really necessary and sometimes distract from the live action.
Piaf's songs are so often about heartbreak and lost love: "Comme Moi", "Padam Padam", "Mon Légionnaire", "La Belle Histoire d'Amour"; the street girl of "Milord", the rejection of "Télégramme". For those without fluent French, Trafford's English translations bring an extra poignancy to songs that were always moving even when only half understood.
Mansfield doesn't have Piaf's rawness but brings sensitivity and in the last half dozen songs, presented as though in sequence in the Carnegie Hall, she adds extra drama. From "La Vie en Rose", the ruined life of the tart in "L'Accordioniste", the tale of loveless "Pauvre Jean", the abandon of "Hymne a l'Amour" and the bravado of "C'est à Hambourg" the numbers build to Piaf's signature song "Non, je ne Regrette Rien" which is sung untranslated in the original French.
It is not as defiant, nor as painful as Piaf sang it, the regrets she rejected perhaps here more visible, but a fitting end to an exploration of a life and a repertoire.
Reviewer: Howard Loxton