I Am a Camera
John van Druten
Paulden Hall Productions in association with Folie à deux Productions
Southwark Playhouse (The Vault)
–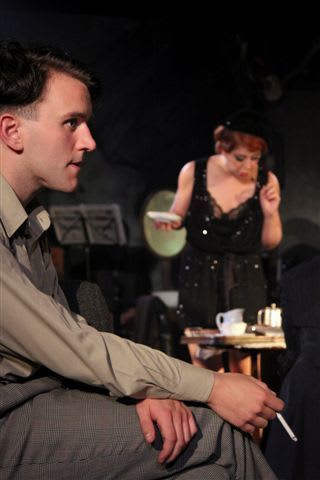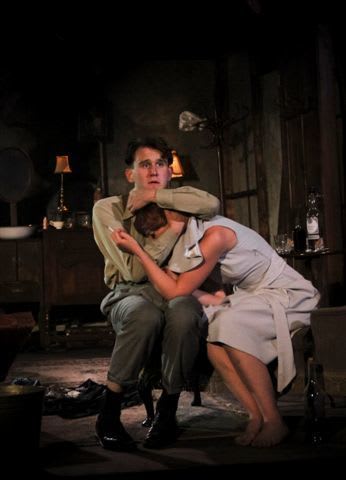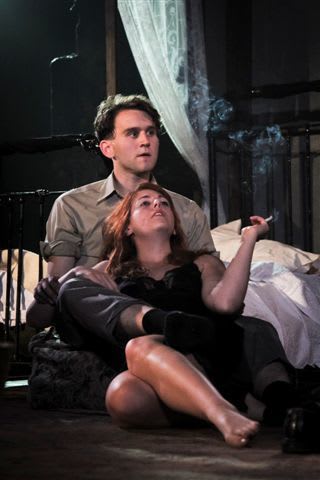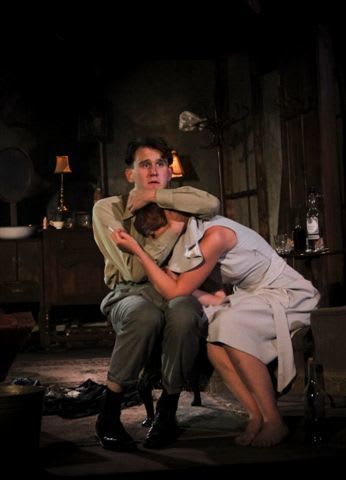 "I am a camera with its shutter open, quite passive, recording, not blinking" declares the narrator of Christopher Isherwood's Goodbye to Berlin, the source material for John van Druten's 1951 play, which in turn led to the later Kander and Ebb musical Cabaret.
I saw the British premier of the play with Dorothy Tutin but haven't seen it since and hazy memories are further clouded by the numerous revivals of Cabaret (which makes some changes and additions to the story) and the movie with the charismatic Liza Minnelli creating a very different Sally from the one that Isherwood actually wrote about.
After fifty years and more, how does Van Druten's play stand up? Very well, in fact, with a plot that offers changed situations, reveals new information gradually and offers strongly drawn characters. I'm slightly surprised that some of its talk of prostitutes and abortion got past the Lord Chamberlain's office's blue pencil—maybe the British production didn't, though of course there is no explicit mention of the homosexual element of the original story: one reference to being a lesbian is a joke.
The opening sentence of the book that the fictional Christopher is writing also describes director Anthony Lau's approach to this revival. There is no attempt to romanticise the young writer and Sally, the small time singer who becomes his bosom pal. With his Oxbridge manner and her posh Home Counties vowels, they are clearly brats from comfortable homes whose strictures they are escaping. They've not been touched by the Wall Street Crash and the Depression. They may be broke but they know rescue is only a phone call away, as they come to acknowledge they are playing a game. The rich American playboy who turns up to provide champagne and dinners calls them the best of playmates and indeed for them this is a game into which real life begins to intervene.
This Christopher and Sally, frenetically played by Harry Melling and Rebecca Humphries, are fun to be with—in small doses. Their immaturity may make one indulgently tolerant of their behaviour but they are not particularly likeable. Their frantic behaviour, jumping on beds and throwing themselves on furniture, is partly a cover-up for their insecurity. They both desperately need an anchor and a friend.
On the half-lit set before the play itself begins, Christopher is already restlessly going from one thing to another, suitcase to typewriter, in a room that is as untidy as his life (and stays so with its unmade bed when she takes it over).
Chris's opportunist German friend Fritz is no more likeable, but Freddie Capper plays him in a way that acknowledges his own insincerity in a certain awkwardness. In contrast to these three, Chris's pupil Natalie, daughter of the Jewish owner of a big department store, could not be more matter of fact, whether in her approach to the English language or in dealing with her life, a nicely understated performance from Sophie Dickson, while Oliver Rix as the rich American is flamboyantly charismatic—and more conventionally good looking.
The one truly likeable person is Christopher's warm and tolerant landlady Fraulein Schneider, beautifully played by Joanne Howarth, but, because she believes what she hears said about the Jews, an anti-Semite.
The rise of Nazism is made much more of in Cabaret, but a 1951 audience, and even one today, would be well aware of it in the background; though we see only how it impacts on the immediate characters' lives, it is that which eventually makes Christopher grow up. Sherry Baines, as Sally's posh sophisticated ma, turns up to reclaim them for respectable society they have actually begun to understand the world.
Lau's production sometimes feels a little too busy, as full of clutter in business and props as Christopher's room—the cast have to muck in and move it all to change the scene. There is a band to cover these changes but they are not used to any other purpose apart from playing a tedious riff as the audience gathers. That seems an unnecessary extravagance on a Fringe theatre budget.
Reviewer: Howard Loxton