I Am Beast

Sparkle and Dark
Pleasance Courtyard
–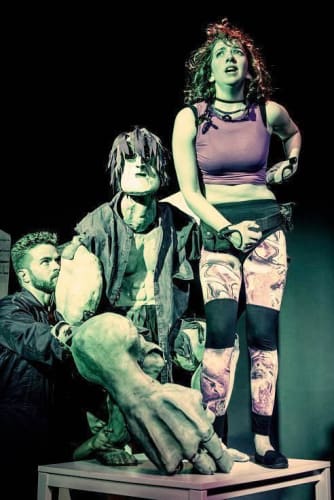 With comic books and their surrounding culture at the very midst of the current youth culture, it's not surprising to find plays which delve into that concept as an aesthetic and design for a play.
In Sparkle and Dark's offering to this year's Edinburgh Fringe, the comicbook hero concept is used as a metaphorical mental escape for schoolgirl Ellie, who imagines herself as Blaze, sidekick to the now-vanished superhero Silver.
In reality, she's a very troubled and broken child failing to deal with the death of her mother, skipping school and lashing out at her father and his new love interest.
While the story flits between real life and an idealised interpretation of those events with the comic book bent, there is a third aspect to the play, where periodically Blaze falls asleep and has recurring nightmares of a giant and terrible creature, the titular beast, rendered in puppet form by three of the cast. The Beast expresses some of her anger but also seems to be necessary to her overcoming the tragedy in her life.
It's a nicely observed piece, with some good ideas and great performances. The design, live music accompaniment, and the neon flashing, slow motion fight scenes all work well.
The script does let the piece down a little, as it feels more froth than substance. The opening moves along a bit slowly before the story gets going, and as a result the overall runtime feels dragged out unnecessarily.
Reviewer: Graeme Strachan