I am Not Victoria Wood
Julia Knight
Pepita Productions
Pleasance Courtyard
–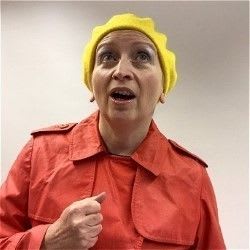 Maddie North (Julia Knight) is in a pickle. Her comedy routine, impersonating the beloved late comedian and actress Victoria Wood, has found a measure of fame and appeal, at least in the reality TV world. As a result, she's been given a vlog by the BBC where she talks about it and throws in musical numbers and impressions.
What is indisputable is that Knight is very skilled at impersonating Victoria Wood. She replicates her voice and mannerisms across most of her best-known characters, while also playing a mean piano. That alone will be more than worth the admission for fans of "VC" who can enjoy this loving tribute to her comedy genius.
Ultimately, that's what this is, a tribute, as well as a vehicle for Knight's talents in this regard. But little more to it than that. There is fairly little in the way of plot between the small scenes that comprise the video blogs, each of which facilitates a costume change and an iconic impersonation. However, while this play predates the pandemic, ironically, the concept of the character now being given a BBC vlog channel seems almost more timely than before. But there's little to complain about this as a light and delicate piece of fun.
Reviewer: Graeme Strachan