I Believe in Unicorns
Michael Morpurgo, adapted for the stage by Danyah Miller and Dani Parr
Danyah Miller Storyteller Ltd
Apollo Theatre
–

Listing details and ticket info...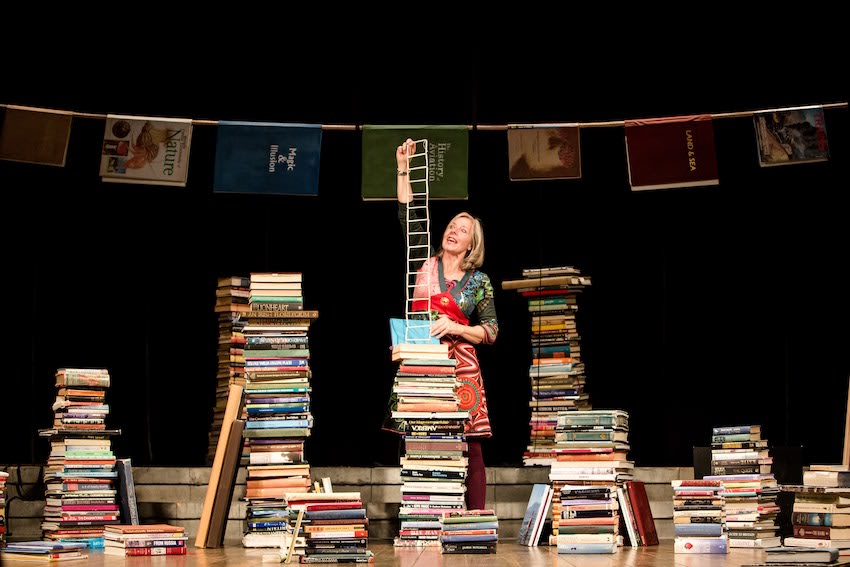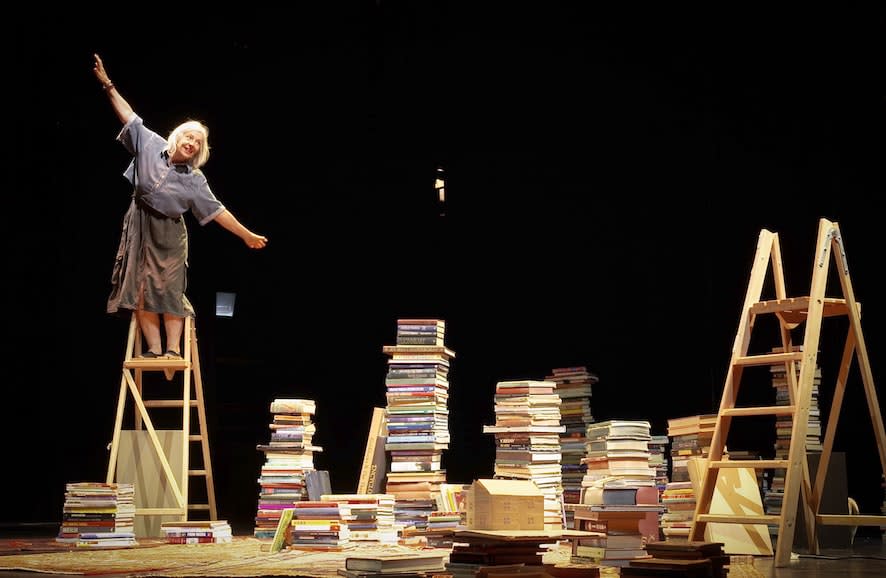 Ten years after this stage adaptation of Michael Murpurgo's story of a boy who didn't like books but learned to love them was first seen in the West End, it is back for a summer season for the school holidays.
It is presented on the 2:22 set, drapes hiding some of its elements, where Danyah Miller becomes the librarian storyteller, surrounded by piled-up books, who directly engages the audience. Her claim that we are in a village library places big demands on young imaginations, which are stimulated much more effectively as the performance progresses and we get to the core story, but first we explore what is in other books. Take that quite literally, for her books contain not just ideas but also hide other things inside them, from kites to fly to finding chocolates, and then a golden egg (which she wryly remarks she wishes was a real one).
The way that stories contain other stories is matched by a book that contains many books, as each reveals another smaller volume inside it down to the truly tiny.
There's a story instantly invented from names and places the audience call out, and as more stories start coming, the books open up to give pop-up illustrations, like the Noah's Ark that features in one of them. As well as the pop-ups, there are pull-outs and sometimes projections. Everything is beautifully detailed in Kate Bunce's design.
In Morpurgo's original, the storyteller sits in a seat that is carved with a unicorn and the children call her the Unicorn Lady. Here, the unicorn is a carved animal her father made for her that she strokes sometime to get inspiration. She tells us the unicorns failed to board Noah's Ark, but though submerged by the Flood, they did survive. Now they look different, but they still have the horn that identifies them.
By the time the story of eight-year-old Tom begins in earnest, Danyah Miller has established an intimacy with her audience that really involves them. They are in her world, where books are burned and bombs fall. Will Evans's lighting sets the whole village burning, but it is the children themselves who restock the rebuilt library, passing imaginary books forward that seem to turn into real ones.
Though the way in which the books reveal their contents is delightfully ingenious, Dani Parr's production at first seemed to perhaps show too much, placing too little on the children's imagination, but I think they loved it and I too was won over. I Believe in Unicorns lasts just under an hour and is well matched to its target audience of six and over, but grown-ups can enjoy it too.
Reviewer: Howard Loxton