I Believe in Unicorns
Michael Morpurgo
Wizard Presents
Pleasance Courtyard
–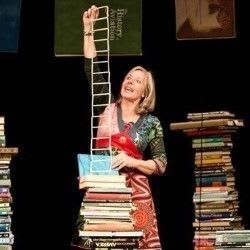 I Believe in Unicorns by Michael Morpurgo is an absolute delight and Danya Miller is a consummate storyteller who welcomed the children in the audience to the opening day of the village's brand new library.
She puts everyone at ease asking the little ones and the adults what their favourite storybook is and even persuades some of the parents to take the part of the Mayor and members of the fundraising committee.
The set is beautiful with piles of books of different sizes and two stepladders, one on each side of the stage, that become mountains. It feels comfortable, inviting and magical and indeed it is.
Instead of making a grand speech, she tells the story of 8-year-old Thomas who had difficulty in reading and writing but was taken to the library by his mother to meet the 'Unicorn Lady' who told stories every afternoon and what stories they are.
Each book has a surprise revealed, be it a rope appearing, or the pop-up one with the library. There are maps hidden in large books, a golden egg, a magical kite that flew away, was lost and then reappeared. I loved the books that had smaller and smaller books inside and, just when we thought that was the last one, the tiniest of books the size of a postage stamp was disclosed much to the delight of the audience—well, it was Harry Potter.
The audience participation was enchanting throughout, with the kids suggesting a name, a place and an object to make a three-minute story. All wonderful fun.
There are also more difficult stories that are told as the librarian's most precious of all books is a fire-damaged copy of Hans Christian Anderson's fairy tales that the Nazis burned in a bonfire. We learn how the village was destroyed by enemy bombing and the story of Noah rescuing the animals with the youngsters suggesting what animals could go into the ark.
The children in the audience were enthralled, captivated by Miller's ability to spin a tale and engage with everyone and, yes, she does believe in the magic of unicorns and I think I did as well.
Reviewer: Robin Strapp