I Capture the Castle
Based on the novel by Dodie Smith, book and lyrics by Teresa Howard, music by Steven Edis
Octagon Theatre Bolton, Watford Palace Theatre & Kevin Wallace Limited
Octagon Theatre
–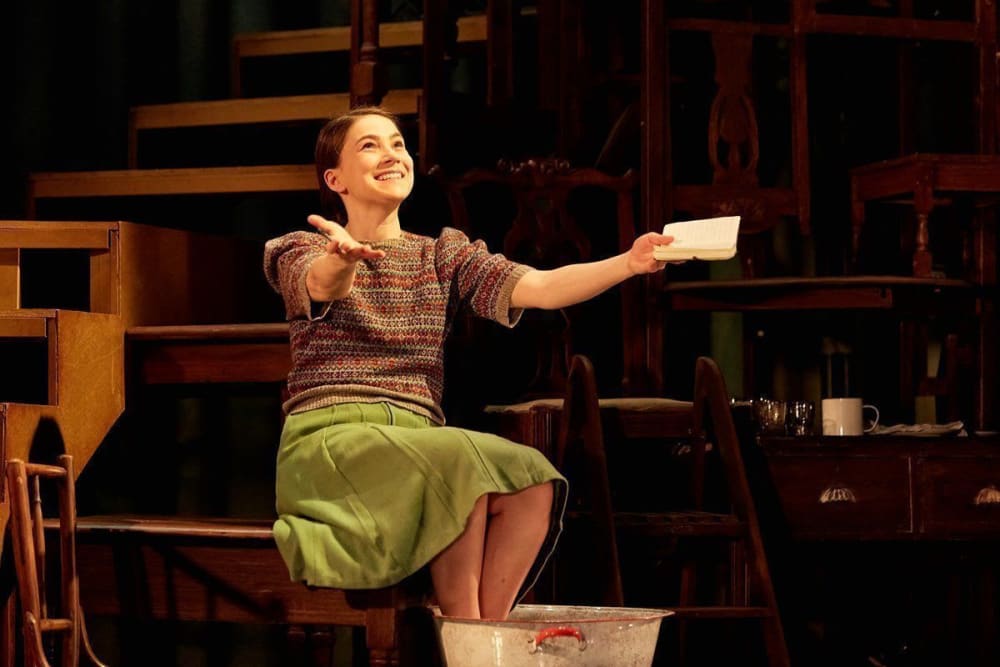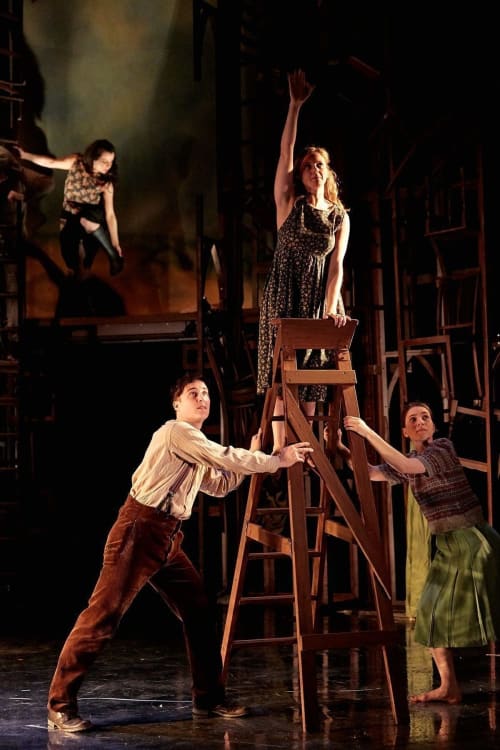 "I write this sitting in the kitchen sink," sings Cassandra, the famous first line from Dodie Smith's well-loved classic—but not all of this new musical version is quite as true to the original.
Smith's story is told as a series of entries by young Cassandra (Lowri Izzard) into a journal she has started in order to practise her writing before embarking on her first novel. Her father, known only by their surname Mortmain (Ben Watson), once wrote a highly-acclaimed book, Jacob Wrestling, but has failed to back it up with a sequel and the royalties have dwindled to nothing.
They live in a castle with Cassandra's older sister Rose (Kate Batter) and Mortmain's second wife Topaz (Suzanne Ahmet), a former painters' model, but it is very run-down and they can't afford to pay the rent (the "capturing" of the title refers to Cassandra getting to the essence of things and people with her writing). Their landlord dies, and his grandsons Simon (Theo Boyce) and Neil (Luke Dale), who were brought up on opposite coasts of America, arrive to view their inheritance. Obviously some romantic entanglements ensue.
The adaptation's translations of Cassandra's personal reflections into fully-staged scenes sometimes seems a little clumsy, although there are some suitably tense moments later on. In trying to squeeze in the whole story of the novel, someone who has never read the book may get rather confused about what is going on, whereas someone familiar with it would be wondering why there were so many unnecessary changes in details.
Why are they getting demands for rent when in the book this was waived by their landlord and it is food that they are short of? Why is Topaz wandering in the rain naked rather than the wonderful image of her naked but for a pair of wellington boots, so the Americans think they see a ghost with no feet? Changes occur in adaptation, but these and others seem unnecessary sacrifices.
The music covers many different styles, from modern post-Wicked musical to '20s flapper and a swing number with some great '40s harmonies, but the arrangements for just three musicians sound a bit thin, especially in the big production numbers. The lyrics range from needlessly flowery to rather banal, with rhymes that aren't a million miles from "moon" and "June". Another problem with some of the songs is that they hold up the action rather than advancing it, puncturing the mood instead of heightening it.
The production is held together by a very impressive central performance from Izzard as Cassandra. Elsewhere, there is an inconsistency of style of performance, with some quite natural performances from Batter and Dale, for instance, but Watson's Mortmain is more of a cartoon character, singing out his spoken lines in full operatic mode.
Brigid Larmour's production has a great set of platforms and stacked wooden furniture to climb and play on from designer Ti Green, but any sense of playfulness in the telling of the story seems forced rather than genuine.
Smith's wonderful novel could make a very good play—I'm not convinced it needs to be a musical—but this particular adaptation doesn't hit the mark, and the production, despite some enjoyable moments, doesn't really come together.
Reviewer: David Chadderton