I Capuleti e i Montecchi
Vincenzo Bellini
La Fenice, Venice
Released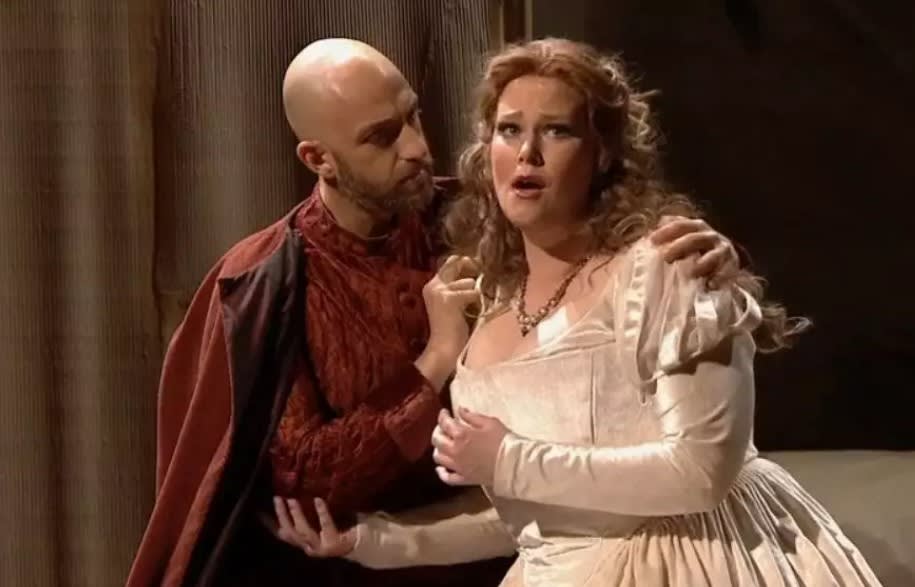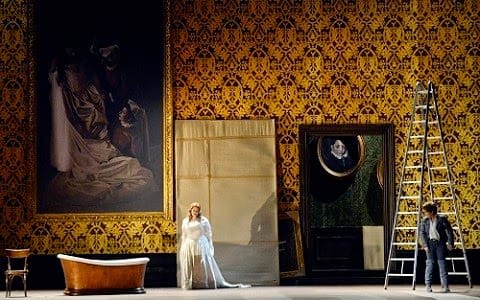 It's Romeo and Juliet, but not quite as we know it. Bellini's librettist took the story from a source even older than Shakespeare's—the ending is the same, but before the start, Romeo has already killed Juliet's brother and her father has betrothed her to Tybalt in return for his promise of revenge.
The greatest surprise, however, is that Romeo is played by a woman, in the original and as usually played today—there's a version from San Francisco starring Joyce DiDonato available on the medici.tv streaming service.
Claudio Abbado rewrote the role for a tenor at La Scala in 1966, for which the authoritative Charles Osborne wrote there was no justification. I'm not so sure, not having seen that, but mezzo Sonia Ganassi here makes a forceful case for the original casting in any case. Perhaps in these enlightened days, one can almost treat the couple's love-making as a same-sex relationship.
Director Arnaud Bernard successfully balances the piece between Middle Ages realism and a contemporary mise en scène, with safety-helmeted stagehands moving labelled flats, frieze scenes, and what I take to be a portrait of a very young Bellini. But if the effect emphasises the staginess of the conception, the moment when Juliet's body is uncovered is truly dramatic.
Bellini was given just 40 days to write the piece, so adapted no fewer than ten numbers from his previous, unsuccessful opera Zaira. Premièred in 1830, a year after Rossini had left the operatic stage, it became his first great hit. There are many good if not grab-you-by-the ears arias, fine duets and signs of the composer's originality in the long, expansive melodic lines.
Special mention should be made of the excellent quality of the sound recording, exemplified by the distinctively captured voices in the splendid quintet that closes the first act. Overall, this is an immensely enjoyable production from La Fenice, Venice, the house for which it was written.
Australian soprano Jessica Pratt as Juliet leads a fine cast, bringing a delightful, even portamento to shining top notes and precise execution in coloratura. There is emotion too, in a languid bath-time lament "Oh, quante volte", and she manages to invest a rather anonymous cavatina "Morte io non temo" with depth of meaning.
Ganassi brings energy to the role of Romeo, vigorous in the cabaletta "La tremenda", matched by a no less vigorous response from the hostile chorus of Capulets. A few facial tics and frequent glances directly at the conductor or side video can become a distraction, but she never lacks martial expressiveness, as in the duets with Juliet, and her performance grows in urgency and strength, especially in the innovative recitative cum larghetto "Ecco la tomba" that is the climax and longest solo passage in the work.
Of the other three principals, bass Rubén Amoretti in a limited role as Juliet's father is the most impressive; tenor Shalva Mukeria delivers Tybalt's "L'amo, l'amo" with spirit and baritone Luca Dall'Amico has a distinctive, breathy sound as an oddly sinister-looking Lawrence.
Conductor Omer Meir Wellber never overwhelms the singers, yet whips up the excitement in the orchestra, in which the clarinet and harp contribute lovely passages.
Reviewer: Colin Davison