I Due Foscari
Giuseppe Verdi, Libretto by Francesco Maria Pave
Teatro alla Scala
Released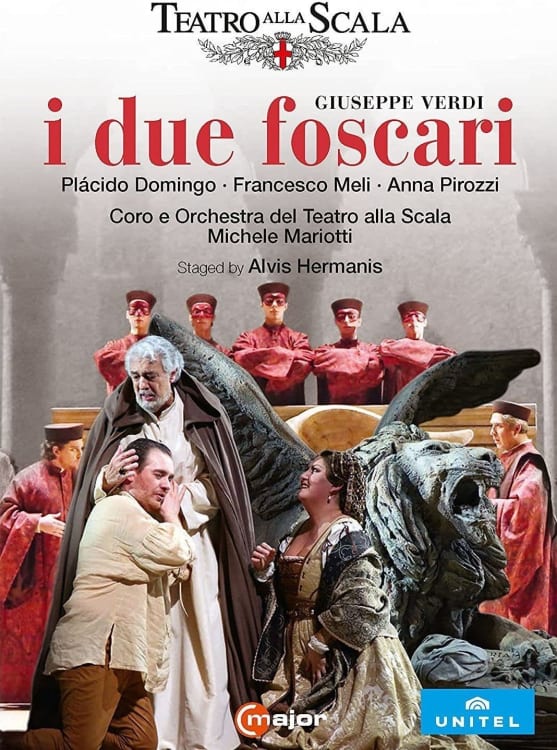 Giuseppe Verdi's I Due Foscari premièred in Rome in 1844. On the second performance, Verdi took 30 curtain calls. The opera is based on a play Lord Byron had published in 1821. Byron had no desire to see it staged.
The opera is rarely performed these days and probably would not have been revived had Placido Domingo not wanted to play Francesco Foscari, the octogenarian Doge of Venice. Alvis Hermanis's production, conducted by Michele Mariotti, was seen at La Scala, Milan in 2016.
The play, based on a true event, is set in Venice in 1457 and has inspired dramatic paintings by Eugene Delacroix and Francesco Hayez; which are far more dramatic than anything in this performance.
Hermanis's designs include familiar images of Venice and its architecture projected on to the backdrop. The colour on stage is provided by the richly coloured costumes for the chorus.
The Doge's son, Jacopo (Francesco Meli), is falsely accused of murder. Lucrezia, Jacopo's loyal wife (Anna Pirozzi), prays, pleads and harangues the Council of Ten who have tortured him and condemned him to exile. Jacopo's prison is a museum storeroom full of large sculptures of Venice's winged lion, which move about the stage.
Domingo has the gravitas and authority for the Doge but he no longer has the voice. In the opera's best moments—the trio in act 2 and the ensemble finale—his voice is drowned by the orchestra.
Domingo has played the Doge in four different productions. Meli has played his son in the same four productions. Meli and Pirozzi have some fine arias and duets. Pirozzi's duet with Domingo is one of the high spots.
The inclusion of ten student dancers from Scala's Ballet Academy is, unfortunately, a comic mistake; and worse, the choreography, with its stylized leg gestures and its staves, upstages Meli and Pirozzi when they are singing and the concentration should be on them.
The final scene takes place on and round the Doge's four-poster bed. The deaths of the two Foscari, one off-stage, the other on-stage, fail to move. The applause at La Scala is tepid. Pirozzi is booed. But the cast continues to take curtain calls.
Reviewer: Robert Tanitch