I Feel the Need
Loree Draude
Fringe Management
Assembly Rooms
–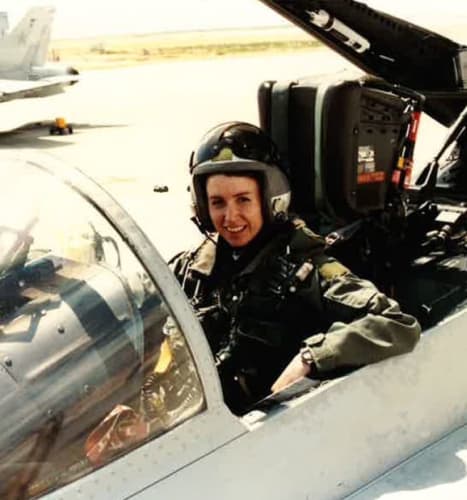 It's not like Top Gun! As Loree "Rowdy" Draude reminds the audience many times during the show, the reality of being a Navy fighter pilot is not like the movies.
The monologue winds a sprawling tale from her youth as the child of Navy parents, through her college years, training as a pilot and beyond with Draude touching on many aspects of military procedure, the joys of soaring in a jet plane, some inevitable minor sexist interactions with the mostly male pilots and top brass and the strain it all has on the young wife and mother.
It's an interesting story, but it feels like many important moments are skipped over or dropped suddenly, such as her brief flirtation with being a veterinarian, which is made much of then never mentioned again; more clumsily, late in the play where Draude makes sudden mention of having always suffered depression as a preface to a scene of suicidal contemplation. It's unfortunate, as there is no shortage of drama and events in her life, but these pieces of a truly compelling story are told in bullet points rather than as a story.
It's almost telling that Draude mentions severally the by-the-book checklist nature of her upbringing and Navy operating procedures, in part because the play itself feels like a checklist rather than a narrative, written to formula and lacking some of the gritty nuance or the callbacks and early laid threads which would pay off with greater resonance.
That's not to say that Draude can't spin a yarn, as she pulls more than a few laughs from the audience. But the piece feels like a memorised speech delivered as a briefing, rather than a tale told by a raconteur.
Reviewer: Graeme Strachan