I Know I Know I Know
Flora Wilson Brown
Donotalight in association with Harlow Playhouse Trust
Southwark Playhouse
–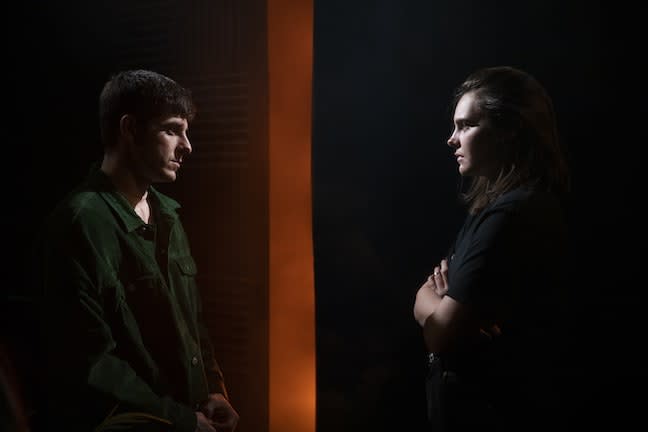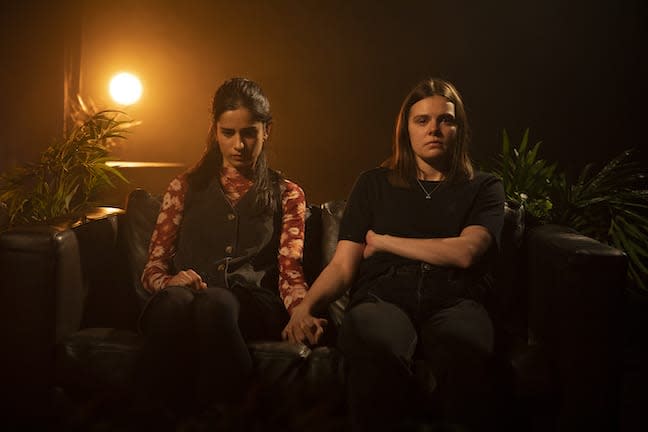 This debut production from new company Donotalight, which was due to be part of the cancelled Vault Festival, has now fortunately found a space in the smaller of Southwark Playhouse's auditoria for this graphic story of sexual exploitation.
Flora Wilson Brown's play starts with what seem to be two different storylines but acts them out simultaneously. First there is a young woman talking into her telephone, then there's a couple, old mates from college days, in a car chatting as they drive to a wedding.
Though director Harry Tennison has his actors play their lines as in real life, he and his designer Victoria Maytom choose to present all the action on the same set, a somewhat stylised space with a smart sofa, a camera crew equipment box used as a table and ferns popping up all over the place and one end of the sofa awkwardly propped up on a small wooden platform (a semiotic challenge to start with).
There is no car to confine Hannah and Max in. Instead they roam all over the place and so does Alice, leaving her phone on the table. They can take a trajectory that weaves them together and so too do their stories.
Alice is telling a journalist about her relationship with a now famous pop singer / songwriter which began when as a schoolgirl he picked her out from his female fans. It went on a long time before she realised that it was abusive, At first, as Alice describes herself as vegan with a cat called Spaghetti, Hannah Khalique-Brown presents her nervousness with staccato gestures and head turns that also suggest the immature 16-year-old she was when he first got her into bed. Her telling becomes more confident, but now Khalique-Brown captures the rawness of the need Alice has been left with.
At first, as the two text compete for attention, Alice's clearer articulation foregrounds her story. Picking up on Hannah (Martha Watson Allpress) mentioning that it is her ex-girlfriend who is getting married, you might expect that this is a parallel lesbian encounter but it is not long before you perceive Max's agitation and multiple phone calls (same phone on the table). Max talks of gigs, he is also a poster, and when the monologue and dialogue come together on a shared line, you know they are all part of the same story.
I Know doesn't delve as deeply into Max's side of the story, so Ethan Moorhouse can't make him much more than a man making excuses for a guilty secret, but we get a glimpse into the pressures and temptations of the pop star, but it is the foregrounding of the anguish and aftermath for Alice and many like her that make this play forceful.
Its construction and presentation are often confusing. It seems to move into another space and time for its ending. Is Hannah now revealed as the journalist who interviewed Alice? I'm not sure. A play that is only 80 minutes long yet has room for tightening as well as for extra clarity, but it is effective and, although much of its content is painful, there are a few laughs.
Reviewer: Howard Loxton