I Left My Heart in Roker Park
Tom Kelly
Cranked Anvil
Customs House, South Shields
–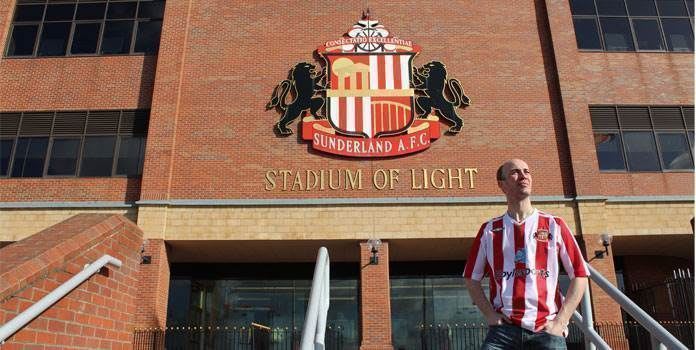 When a company takes a production on tour, even a local tour, and has to keep adding extra dates, you know that the play has to be something special. That's the situation with Cranked Anvil's production of Tom Kelly's one-man play I Left My Heart in Roker Park.
At the end of its last night (a performance which had been added because of popular demand) at the Customs House, the theatre announced there would be an additional performance in October.
So what is so special? To begin with, it's a play about something which is almost a local religion: football. Not only that, it's about a local team, Sunderland, which, because of its intense rivalry with neighbouring Newcastle, excites strong emotion, particularly in South Shields where the population seems to be evenly split between Mackem (Sunderland) and Magpie (Newcastle) supporters.
But actually, although football fever may be the initial driving force behind the play's popularity, there's more to I Left My Heart than "the beautiful game".
It's about an ordinary man, Kevin Halliday, who is a real Sunderland fan—in the true sense of the word, for he is a fanatic who has a detailed, almost encyclopedic knowledge of the team from over thirty years of support. His life and the fortunes of the team are inextricably intertwined in his mind. For his memory of every life event, there's a memory of what was happening wth the team, whether it's his marriage and divorce, his promotions at work or his friendships.
It's a fascinating life story. Kevin is a kind of modern day Everyman whose life is shot through with humour and pathos, with joy and despair, with a determination to accept everything life throws at him, good and bad. His enthusiasm and openness makes him an engaging, even endearing character and Tom Kelly's writing and direction ensure that the audience empathises every step of the way.
Paul Dunn truly embodies the character. He makes the emotional transitions, both personal and sporting, seamless and carries the audience along with him every step of the way. He is completely at home on the stage and we, the audience, do feel that we are in a one-to-one conversation with this engaging man.
I Left My Heart in Roker Park will return to the Customs House on 11 October but before then it visits the Gala in Durham on 23, 26 and 28 September and Arts Centre Washington on 25.
Reviewer: Peter Lathan